Rebroadcast: April 28 with Calexico, Meshell Ndegeocello, and Mike Yard
From The Town Hall | New York, NY
Photos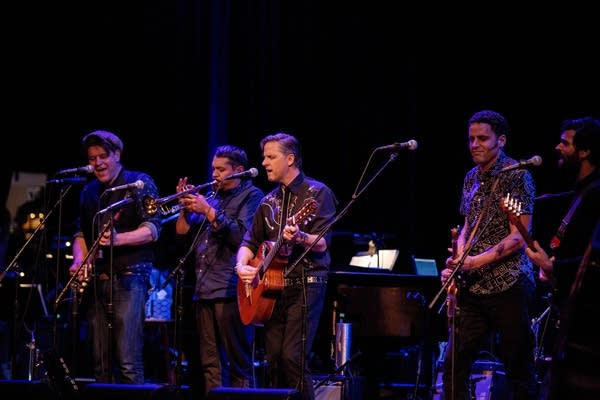 This week: we revisit an April broadcast from New York City with Meshell Ndegeocello, Calexico, and comedian Mike Yard. Plus: a tribute — in Song of the Week form — to the respite of a park bench amidst the swirl of NYC, "Madison Square Park"; Sarah Jarosz joins Chris and the band to sing Gillian Welch's "Revelator" and more; a journey to the depths of your cable company's customer service line, and an episode of "Ro-splendent Roses" with our acting company; and our comedian correspondent Tom Papa keeps an eye out for paranormal incidents during a visit to Colorado's spooky Stanley Hotel.
Chris Thile

By the time Live from Here host Chris Thile turned 15, he had already been playing mandolin for a decade. He'd also started Nickel Creek with Sara and Sean Watkins, and released his first solo recording, 1994's Leading Off. This Grammy winner and MacArthur Fellow teams up with numerous musicians in myriad styles and leads acoustic quintet Punch Brothers. His albums include Thanks for Listening (Nonesuch) 10 studio recordings originally written as Prairie Home Companion Songs of the Week. He is now in his second season hosting the show.

Richard Dworsky

Richard Dworsky, Live from Here's keyboardist, composer, arranger, and music director, has collaborated with diverse musicians -- from Yo-Yo Ma and James Taylor to Brad Paisley and Kristin Chenoweth. For 23 years, he served as pianist and music director for Garrison Keillor's A Prairie Home Companion. Rich has also provided music for documentaries on HBO and PBS, and has released many recordings of original material, including his latest, All In Due Time.

Chris Eldridge

Maybe it's the gene pool: Chris Eldridge's father was a founding member of the Seldom Scene, a group that guitarist Chris would join after earning a degree in music performance from Oberlin. He went on to start a bluegrass band, the Infamous Stringdusters, and later to critical acclaim with Punch Brothers. His 2017 duo album with guitarist Julian Lage is called Mount Royal (Free Dirt Records).

Brittany Haas

At 14, fiddler Brittany Haas began touring with Darol Anger's Republic of Strings. Now Anger says: "Britt opens the window, gets out of the way, and the music floods through in a tide of joy." The California-born Princeton University grad has performed with a number of bands, including Crooked Still and Hawktail.

Sarah Jarosz

Sarah Jarosz is a gifted instrumentalist (mandolin, guitar, banjo), distinctive vocalist, and accomplished songwriter. The New England Conservatory of Music alum has carved out a solid niche where contemporary folk, Americana, and roots music intersect. Her fourth album, Undercurrent, took Grammy Awards for Best Folk Album and Best American Roots Performance ("House of Mercy"). See You Around is the first full-length recording from I'm With Her, Sarah's trio with Aoife O'Donovan and Sara Watkins.

Ted Poor

"Adventurous, truly dynamic, and forward-thinking drumming," said Modern Drummer magazine of Ted Poor. An in-demand session player and sideman, this Eastman School of Music alum has toured worldwide with various bands, and he is currently an Artist in Residence at the University of Washington, Seattle. For the past few years, Ted has been a member of Andrew Bird's band and appears on Bird's 2016 release, Are You Serious.

Tim Russell

Mild-mannered Tim Russell one minute -- Obama, Trump, or myriad others the next. It's almost impossible to stump this "man of a thousand voices." A longtime radio personality (veteran of WDBQ in Dubuque, WCCO and KJJO in the Twin Cities, in addition to his decades-long Prairie Home stint), Tim appeared in the Robert Altman film A Prairie Home Companion and the Coen brothers' A Serious Man.

Serena Brook

Actress Serena Brook has appeared off-Broadway, on the national tour circuit, and on regional theater stages. In the Twin Cities, her work includes productions at Chanhassen Dinner Theatres, 7th House Theater, the Guthrie Theater's Dowling Studio, and the Pantages Theatre in Minneapolis. The Eagan, Minnesota, native is also a voice-over artist who can be heard on national and regional radio commercials.

Fred Newman

Sound Effects artist Fred Newman went from the storytelling of small-town Georgia to Harvard Business School and Newsweek magazine. He then veered left to become the author of MouthSounds, puppeteer for Jim Henson, and TV host of shows such as The New Mickey Mouse Club, creating voices and music for Nickelodeon's cartoon series DOUG, a symphony celebrating the Golden Gate Bridge, and the sound of Old Faithful for Yellowstone's Old Faithful Visitor Education Center — all with his mouth. He performs his own stories around the country.

Mike Elizondo

Musician, songwriter, and Grammy-nominated producer Mike Elizondo is best known for his 11-year collaboration with Dr. Dre, as well as for co-writing Eminem's "The Real Slim Shady," Carrie Underwood's "Cowboy Casanova," and 50 Cent's "In Da Club." In course of his career, he has contributed to albums for artists across a wide range of genres, including Jay Z, Fiona Apple, Maroon 5, Mary J. Blige, Ry Cooder, Sheryl Crow, Eric Clapton, and myriad others. He is currently Senior Vice President of A&R for Warner Bros. Records.

Calexico

Calexico, the longstanding Tucson, Arizona-based indie rock favorite, had its beginnings in California in 1990, when multi-instrumentalist Joey Burns and drummer John Convertino began their musical collaboration. Calexico, named for a Califoria border town, released their first album in 1995. Earlier this year, they released their ninth, The Thread That Keeps Us (Anti-Records), described as "a family portrait capturing their stylistic variety and unpredictability while still finding solace in limitless creativity." The band includes: Martin Wenk, Jacob Valenzuela, Sergio Mendoza, Jairo Zavala, Scott Colberg.

Meshell Ndegeocello

Singer, songwriter, bassist Meshell Ndegeocello has been called one of the greatest song interpreters of our time. Her latest album, Ventriloquism, is a fitting showcase as she revamps 11 songs from the 1980s and '90s, including tunes from Tina Turner, George Clinton, and Prince. She says, "The year around the recording of this album was so disorienting and dispiriting … I looked for a way to make something that was light while things around me were so dark, a musical place to go that reminded me of another, brighter time." Jebin Bruni (keyboards), Christopher Bruce (guitar), Abraham Rounds (drums).

Mike Yard

Stand-up comedian Mike Yard was a contributor to Comedy Central's The Nightly Show with Larry Wilmore, and these days, you can find him hosting the popular podcast Yard Talk with Mike Yard. Born in the U.S. Virgin Islands, he was a teen when his family moved to Brooklyn. Some three decades later, he still calls the borough home. It wasn't until after college and various jobs that he started his comedy career with a set at a Harlem comedy club. After that first time on stage, he was hooked, becoming one of the hottest touring comedians around.