Live broadcast: June 30 with Lake Street Dive, Punch Brothers, and Gary Gulman
From Tanglewood | Lenox, MA
Photos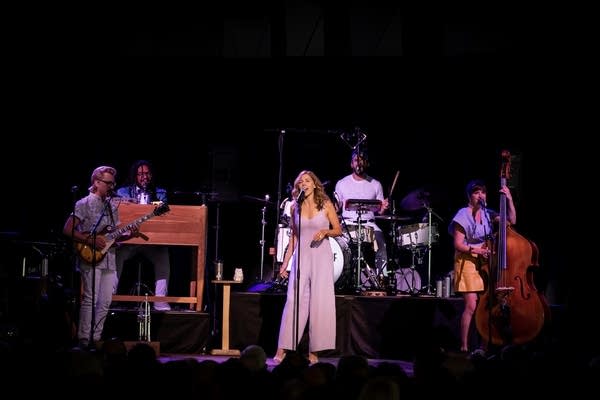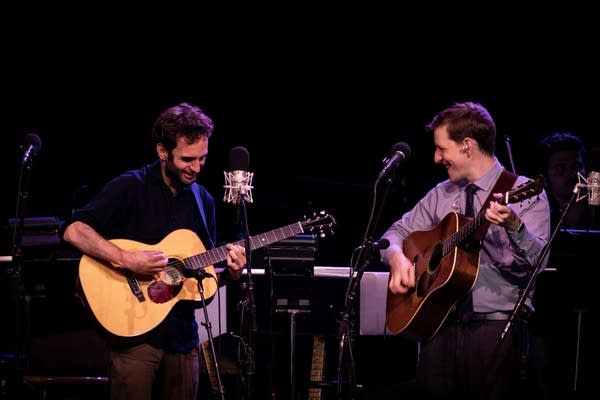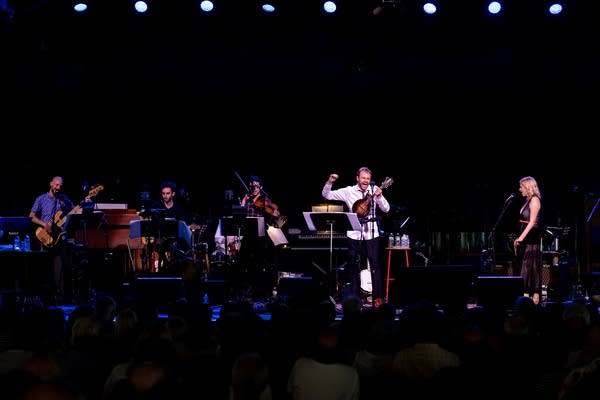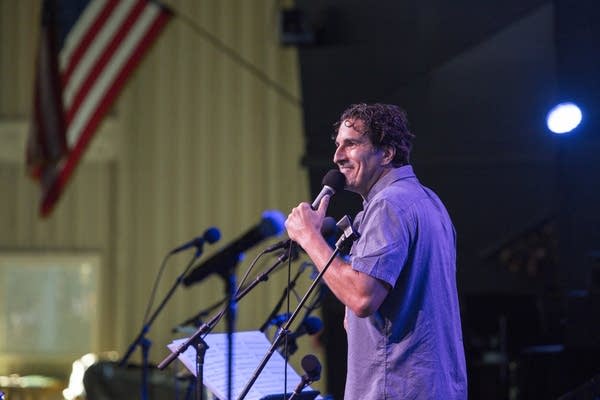 This week: we conclude our season with a live broadcast from Tanglewood in Lenox, Massachusetts; guests Lake Street Dive, Emanuel Ax, Punch Brothers, and comedian Gary Gulman; and our ace band — Aoife O'Donovan, Richard Dworsky, Alan Hampton, Alex Hargreaves, Julian Lage, and Ted Poor. Tune in for this season's final Song of the Week from Chris Thile; comedy from our acting company, Serena Brook, Tim Russell, and Fred Newman; and one more look at what's happening this summer Out. In. America. with Tom Papa.
Chris Thile

By the time Live from Here host Chris Thile turned 15, he had already been playing mandolin for a decade. He'd also started Nickel Creek with Sara and Sean Watkins, and released his first solo recording, 1994's Leading Off. This Grammy winner and MacArthur Fellow teams up with numerous musicians in myriad styles and leads acoustic quintet Punch Brothers. His albums include Thanks for Listening (Nonesuch) 10 studio recordings originally written as Prairie Home Companion Songs of the Week. He is now in his second season hosting the show.

Richard Dworsky

Richard Dworsky, Live from Here's keyboardist, composer, arranger, and music director, has collaborated with diverse musicians -- from Yo-Yo Ma and James Taylor to Brad Paisley and Kristin Chenoweth. For 23 years, he served as pianist and music director for Garrison Keillor's A Prairie Home Companion. Rich has also provided music for documentaries on HBO and PBS, and has released many recordings of original material, including his latest, All In Due Time.

Ted Poor

"Adventurous, truly dynamic, and forward-thinking drumming," said Modern Drummer magazine of Ted Poor. An in-demand session player and sideman, this Eastman School of Music alum has toured worldwide with various bands, and he is currently an Artist in Residence at the University of Washington, Seattle. For the past few years, Ted has been a member of Andrew Bird's band and appears on Bird's 2016 release, Are You Serious.

Tim Russell

Mild-mannered Tim Russell one minute -- Obama, Trump, or myriad others the next. It's almost impossible to stump this "man of a thousand voices." A longtime radio personality (veteran of WDBQ in Dubuque, WCCO and KJJO in the Twin Cities, in addition to his decades-long Prairie Home stint), Tim appeared in the Robert Altman film A Prairie Home Companion and the Coen brothers' A Serious Man.

Serena Brook

Actress Serena Brook has appeared off-Broadway, on the national tour circuit, and on regional theater stages. In the Twin Cities, her work includes productions at Chanhassen Dinner Theatres, 7th House Theater, the Guthrie Theater's Dowling Studio, and the Pantages Theatre in Minneapolis. The Eagan, Minnesota, native is also a voice-over artist who can be heard on national and regional radio commercials.

Fred Newman

Sound Effects artist Fred Newman went from the storytelling of small-town Georgia to Harvard Business School and Newsweek magazine. He then veered left to become the author of MouthSounds, puppeteer for Jim Henson, and TV host of shows such as The New Mickey Mouse Club, creating voices and music for Nickelodeon's cartoon series DOUG, a symphony celebrating the Golden Gate Bridge, and the sound of Old Faithful for Yellowstone's Old Faithful Visitor Education Center — all with his mouth. He performs his own stories around the country.

Alan Hampton

Multi-instrumentalist Alan Hampton began his music career in Houston, Texas. He continued at New York City's New School and then at the Thelonious Monk Institute in L.A. He has performed internationally with Herbie Hancock, Terence Blanchard, Wayne Shorter, and more. In addition to laying down tracks for numerous musicians, Alan's own recordings include Origami for the Fire (Ash Productions).

Alex Hargreaves

Newest member of the world-renowned Turtle Island Quartet, Alex Hargreaves is an innovative, cross-genre violinist described as "one of the greatest improvising violinists in America today" by virtuoso mandolinist/composer Mike Marshall. He has performed on stages worldwide, including Austin City Limits, the Grand Ole Opry, and the Newport Jazz and Folk Festivals. Among his recordings: The Brotet, with Samson Grisman, Dominick Leslie, and Nathaniel Smith.

Julian Lage

The New York Times has called Julian Lage "one of jazz's breezier virtuosos, possessed of an unflappable technical facility and a seemingly boundless curiosity." A former child prodigy, he boasts a résumé that a guitarist twice his age would be proud to claim. In addition to his many collaborations, Julian has released three albums as leader, most recently 2016's Arclight. Mount Royal — his duo album with guitarist Chris Eldridge — earned a Grammy nomination for Best Contemporary Instrumental Album.

Aoife O'Donovan

With her ethereal voice and substantive songwriting, Aoife O'Donovan captivates fans and critics alike. She was lead singer of the string band Crooked Still and a featured vocalist on The Goat Rodeo Sessions, the Grammy-winning album by Yo-Yo Ma, Stuart Duncan, Edgar Meyer, and Chris Thile. Her own recordings include Man In A Neon Coat: Live From Cambridge. See You Around is the first full-length recording from I'm With Her, Aoife's trio with Sarah Jarosz and Sara Watkins.

Punch Brothers

The five virtuosic musicians who make up Punch Brothers have been pushing boundaries as performers, recording artists, composers, interpreters, technicians, and stylists since they first came together in 2006. Suffice it to say, Chris Eldridge (guitar), Paul Kowert (bass), Noam Pikelny (banjo), Chris Thile (mandolin), and Gabe Witcher (fiddle) have stirred things up with their extraordinary sound. The band's recordings include The Phosphorescent Blues and five-track EP The Wireless, both on the Nonesuch label. Their new album All Ashore is out July 20.

Lake Street Dive

Lake Street Dive formed in 2004 when Rachael Price (vocals), Mike "McDuck" Olson (guitar, trumpet), Mike Calabrese (drums), and Bridget Kearney (bass) were students at the New England Conservatory of Music. They proceeded to build a following through independent album releases, countless club tours, and a few lucky breaks. In 2013, producer T Bone Burnett invited them to join a star-studded lineup at a New York City concert where they practically stole the show—and wound up with a deal from Nonesuch Records. The band's label debut, Side Pony, was greeted with raves. Their latest album — on which they're joined by ace keyboardist Akie Bermiss — is Free Yourself Up.

Gary Gulman

Gary Gulman has been a scholarship college football player, an accountant, a barista, a doorman, a waiter, and a high school teacher. Now he is one of the most popular touring comics around. He has performed on all of the late-night comedy shows: Letterman, Leno, Meyers, Kimmel, Conan, Colbert, and more. And you may have caught him on on Last Comic Standing, Inside Amy Schumer, or HBO's Crashing. His comedy albums include 2016's It's About Time.

Emanuel Ax

When six-year-old Emanuel Ax heard an Artur Rubinstein recording of a Chopin piano concerto, he decided then and there that he wanted to be a concert pianist. Today, some six decades later, he is one of the world's most celebrated classical musicians. He has played with major orchestra worldwide, and his diverse repertoire ranges from Haydn, Mozart, and Beethoven to 20th- and 21st-century composers such as Paul Hindemith, Ned Rorem, and Joseph Schwantner. Recordings from this seven-time Grammy winner include Emanuel Ax Variations: Haydn, Beethoven, Schumann.