Live broadcast: June 23 with St. Paul & the Broken Bones, I'm With Her, Punch Brothers, and Kirk Fox
From Telluride Bluegrass Festival | Telluride, CO
Photos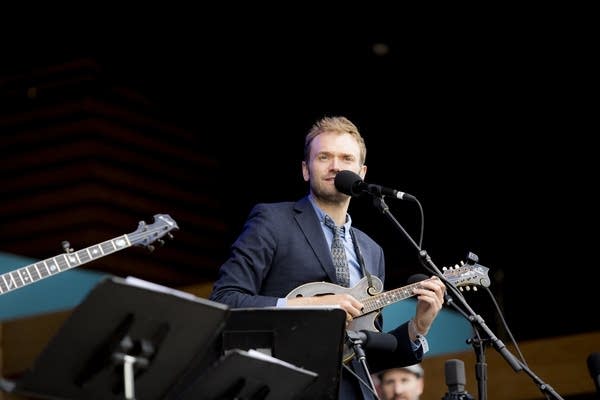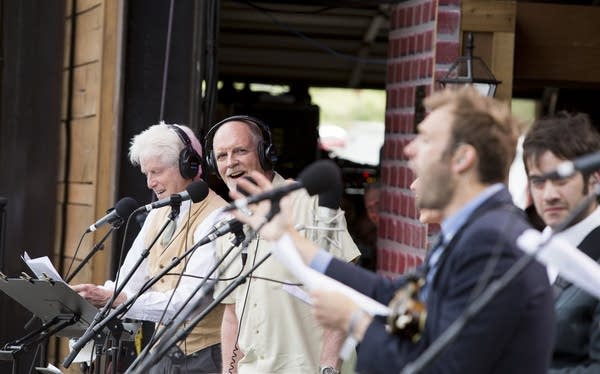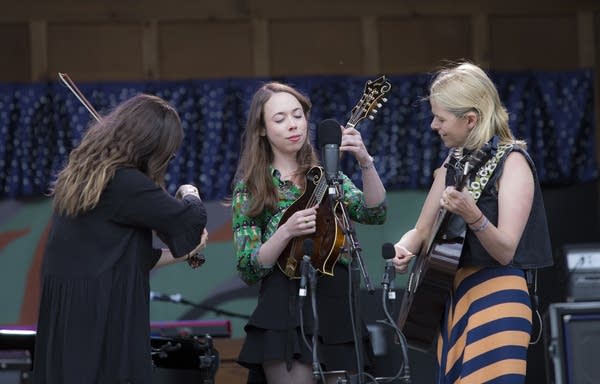 This week: we're live from the Telluride Bluegrass Festival with St. Paul & the Broken Bones, I'm With Her, Punch Brothers, and comedian Kirk Fox for our penultimate show of the season. We'll also have Rich Dworsky and Ted Poor teaming up with Chris Thile and his fellow Punch Brothers for even more music; along with high-altitude hijinks from our radio actors, Serena Brook, Tim Russell, and Fred Newman. Plus: Tom Papa talks with the people, Out. In. America.; we'll celebrate this week's musician birthdays; and you'll have another chance to make your online voice heard with the Instant Song Request. It's two hours of live entertainment beaming straight to your radio from 8,750 feet up in the San Juan Mountains. Tune in.
Follow along on Twitter and Instagram for a look behind the scenes!
Chris Thile

By the time Live from Here host Chris Thile turned 15, he had already been playing mandolin for a decade. He'd also started Nickel Creek with Sara and Sean Watkins, and released his first solo recording, 1994's Leading Off. This Grammy winner and MacArthur Fellow teams up with numerous musicians in myriad styles and leads acoustic quintet Punch Brothers. His albums include Thanks for Listening (Nonesuch) 10 studio recordings originally written as Prairie Home Companion Songs of the Week. He is now in his second season hosting the show.

Richard Dworsky

Richard Dworsky, Live from Here's keyboardist, composer, arranger, and music director, has collaborated with diverse musicians -- from Yo-Yo Ma and James Taylor to Brad Paisley and Kristin Chenoweth. For 23 years, he served as pianist and music director for Garrison Keillor's A Prairie Home Companion. Rich has also provided music for documentaries on HBO and PBS, and has released many recordings of original material, including his latest, All In Due Time.

Ted Poor

"Adventurous, truly dynamic, and forward-thinking drumming," said Modern Drummer magazine of Ted Poor. An in-demand session player and sideman, this Eastman School of Music alum has toured worldwide with various bands, and he is currently an Artist in Residence at the University of Washington, Seattle. For the past few years, Ted has been a member of Andrew Bird's band and appears on Bird's 2016 release, Are You Serious.

Tim Russell

Mild-mannered Tim Russell one minute -- Obama, Trump, or myriad others the next. It's almost impossible to stump this "man of a thousand voices." A longtime radio personality (veteran of WDBQ in Dubuque, WCCO and KJJO in the Twin Cities, in addition to his decades-long Prairie Home stint), Tim appeared in the Robert Altman film A Prairie Home Companion and the Coen brothers' A Serious Man.

Serena Brook

Actress Serena Brook has appeared off-Broadway, on the national tour circuit, and on regional theater stages. In the Twin Cities, her work includes productions at Chanhassen Dinner Theatres, 7th House Theater, the Guthrie Theater's Dowling Studio, and the Pantages Theatre in Minneapolis. The Eagan, Minnesota, native is also a voice-over artist who can be heard on national and regional radio commercials.

Fred Newman

Sound Effects artist Fred Newman went from the storytelling of small-town Georgia to Harvard Business School and Newsweek magazine. He then veered left to become the author of MouthSounds, puppeteer for Jim Henson, and TV host of shows such as The New Mickey Mouse Club, creating voices and music for Nickelodeon's cartoon series DOUG, a symphony celebrating the Golden Gate Bridge, and the sound of Old Faithful for Yellowstone's Old Faithful Visitor Education Center — all with his mouth. He performs his own stories around the country.

Punch Brothers

It's hard to put a label on Punch Brothers. These five virtuosic musicians have been pushing boundaries as performers, recording artists, composers, interpreters, technicians, and stylists, since they first came together in 2006. That's when they made the album How to Grow a Woman from the Ground, which earned them a Grammy nomination. Suffice it to say, Chris Eldridge (guitar), Paul Kowert (bass), Noam Pikelny (banjo), Chris Thile (mandolin), and Gabe Witcher (fiddle) are stirring things up with their extraordinary sound. Their new album is The Phosphorescent Blues (Nonesuch).

St. Paul & the Broken Bones

A TV host once quipped that Paul Janeway, lead singer of Alabama-based soul band St. Paul & the Broken Bones, "may look like the accounting student he once was, but onstage he channels the great Otis Redding, Al Green, even James Brown. "I don't think people expect what we do," says Paul. What they do is wow audiences across North America and Europe. The band's sophomore album is titled Sea of Noise. Jesse Phillips (bass, guitar), Browan Lollar (guitars), Andrew Lee (drums), Al Gamble (keyboards), Allen Branstetter (trumpet), Jason Mingledorff (saxophone, clarinet, flute), Chad Fisher (trombone).

I'm With Her

Four years ago in Colorado, Sara Watkins, Sarah Jarosz, and Aoife O'Donovan — each a top-flight artist in her own right — were asked to merge their considerable talents and put together a last-minute set as the Telluride Bluegrass Festival was drawing to a close. "This should be a thing," the three thought. And now it is. Calling their collaboration I'm With Her, the trio has toured Europe, the U.K., and across the U.S. Their first full-length album, See You Around, came out early this year. These Grammy Award winners have individually released nine solo efforts, co-founded two seminal bands (Nickel Creek and Crooked Still), and contributed to critically acclaimed albums from a host of esteemed artists.

Kirk Fox

Comedian Kirk Fox has spent years making folks laugh — in clubs like The Improv and The Laugh Factory, on TV, and more. In addition to his stand-up career, he's enjoyed success as a film and television actor, TV host, even a tennis pro. He played Sewage Joe on Parks and Recreation and was a regular on Nickelodeon's How to Rock and the CBS dramedy Rush Hour. He has appeared on The Tonight Show with Jay Leno, Conan, Chelsea Lately, and Last Comic Standing, and guest-starred on Brooklyn Nine-Nine, Community, and The Carmichael Show. Kirk Fox: That Guy is his new one-hour special on Showtime.