Live broadcast: June 9 with Parker Millsap, The Secret Sisters, Hawktail, and Tom Papa
From Ravinia | Highland Park, IL
Photos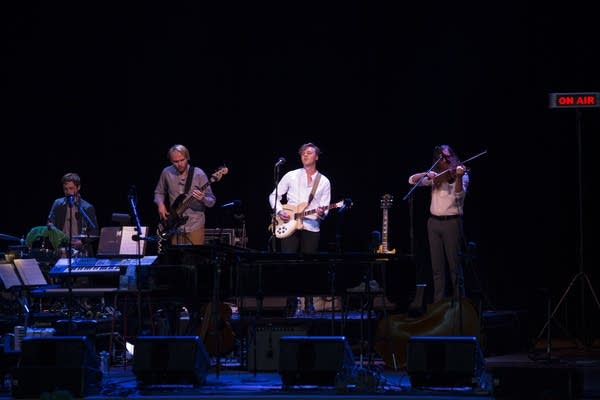 This week: we're back live from Ravinia, just outside Chicago, with Parker Millsap, The Secret Sisters, Hawktail, and Tom Papa. In the band this week: Gaby Moreno, Rich Dworsky, Brittany Haas, Matt Johnson, Paul Kowert, and Julian Lage. Plus: a brand-new Song of the Week from our host, Mr. Chris Thile; our radio acting company, Tim Russell, Serena Brook, and Fred Newman; a fresh selection of musician birthdays; and — get your Twitter thumbs ready — another edition of our online Instant Song Request. It's almost more entertainment than can comfortably fit into two hours, but we'll do our very best: tune in on your local public radio station.
Chris Thile

By the time Live from Here host Chris Thile turned 15, he had already been playing mandolin for a decade. He'd also started Nickel Creek with Sara and Sean Watkins, and released his first solo recording, 1994's Leading Off. This Grammy winner and MacArthur Fellow teams up with numerous musicians in myriad styles and leads acoustic quintet Punch Brothers. His albums include Thanks for Listening (Nonesuch) 10 studio recordings originally written as Prairie Home Companion Songs of the Week. He is now in his second season hosting the show.

Richard Dworsky

Richard Dworsky, Live from Here's keyboardist, composer, arranger, and music director, has collaborated with diverse musicians -- from Yo-Yo Ma and James Taylor to Brad Paisley and Kristin Chenoweth. For 23 years, he served as pianist and music director for Garrison Keillor's A Prairie Home Companion. Rich has also provided music for documentaries on HBO and PBS, and has released many recordings of original material, including his latest, All In Due Time.

Brittany Haas

At 14, fiddler Brittany Haas began touring with Darol Anger's Republic of Strings. Now Anger says: "Britt opens the window, gets out of the way, and the music floods through in a tide of joy." The California-born Princeton University grad has performed with a number of bands, including Crooked Still and Hawktail.

Paul Kowert

Paul Kowert started on violin at age three, but by fourth grade he'd taken up bass, and he later graduated from the Curtis Institute of Music. The Nashville-based musician is a member of Punch Brothers and Hawktail, and has toured with Mike Marshall's Big Trio and Dave Rawlings Machine.

Tim Russell

Mild-mannered Tim Russell one minute -- Obama, Trump, or myriad others the next. It's almost impossible to stump this "man of a thousand voices." A longtime radio personality (veteran of WDBQ in Dubuque, WCCO and KJJO in the Twin Cities, in addition to his decades-long Prairie Home stint), Tim appeared in the Robert Altman film A Prairie Home Companion and the Coen brothers' A Serious Man.

Serena Brook

Actress Serena Brook has appeared off-Broadway, on the national tour circuit, and on regional theater stages. In the Twin Cities, her work includes productions at Chanhassen Dinner Theatres, 7th House Theater, the Guthrie Theater's Dowling Studio, and the Pantages Theatre in Minneapolis. The Eagan, Minnesota, native is also a voice-over artist who can be heard on national and regional radio commercials.

Fred Newman

Sound Effects artist Fred Newman went from the storytelling of small-town Georgia to Harvard Business School and Newsweek magazine. He then veered left to become the author of MouthSounds, puppeteer for Jim Henson, and TV host of shows such as The New Mickey Mouse Club, creating voices and music for Nickelodeon's cartoon series DOUG, a symphony celebrating the Golden Gate Bridge, and the sound of Old Faithful for Yellowstone's Old Faithful Visitor Education Center — all with his mouth. He performs his own stories around the country.

Julian Lage

The New York Times has called Julian Lage "one of jazz's breezier virtuosos, possessed of an unflappable technical facility and a seemingly boundless curiosity." A former child prodigy, he boasts a résumé that a guitarist twice his age would be proud to claim. In addition to his many collaborations, Julian has released three albums as leader, most recently 2016's Arclight. Mount Royal — his duo album with guitarist Chris Eldridge — earned a Grammy nomination for Best Contemporary Instrumental Album.

Gaby Moreno

Guatemalan-born Gaby Moreno was singing even before she could talk. With a style that blends blues, jazz, soul, and R&B, the Los Angeles-based singer-songwriter received an Emmy nomination for co-writing the theme song for NBC's Parks and Recreation. And she took Best New Artist honors at the 2013 Latin Grammys. She writes in both Spanish and English. "Spanish is more poetic," she says, but "in English, you can describe things better." Her latest album, 2016's Ilusion (Universal Music), earned a Latin Grammy nomination.

Tom Papa

Comedian, author, and Live From Here head writer Tom Papa is one of the top comedic voices in the country. Just ask the myriad fans of his stand-up routines or Come to Papa, his weekly hit podcast and SiriusXM show. He's also an actor whose movie and TV credits include Behind the Candelabra, Analyze That, The Informant! and The New Adventures of Old Christine, plus a voice-over role in the animated feature Bee Movie. Human Mule, his third hourlong stand-up special, premiered in 2016. His new book, Your Dad Stole My Rake, is just out.

Matt Johnson

After trading his native Texas for New York several decades ago, drummer Matt Johnson played with a number of groups before becoming a member of Jeff Buckley's band. Since then, he has worked with Rufus Wainwright, Martha Wainwright, Gabriel Kahane, John Mayer, and other top acts. His own albums include Cagefighter and Law of the Land.

Parker Millsap

Singer-songwriter Parker Millsap is quickly making a name for himself with his captivating live performances, soulful sound, and character-driven narratives. The Oklahoma native's appearances include Conan, Austin City Limits, the Apple Music Festival in London, and clubs and festivals coast to coast and beyond. His fourth full-length recording, Other Arrangements, was released this spring on Okrahoma Records/Thirty Tigers. Rolling Stone called the album Parker's "tightest, sharpest, and most infectious set of songs to date." Mike Rose (bass), Daniel Foulks (fiddle), Andrew Bones (drums).

The Secret Sisters

The Secret Sisters really are sisters: Laura and Lydia Rogers. The two grew up surrounded by the sounds of the South near historic Muscle Shoals, Alabama — raised on a rich tapestry of music, from George Jones and Loretta Lynn to the Ramones and Rufus Wainwright. They released their debut album, The Secret Sisters, in 2010, followed two years later by Put Your Needle Down, produced by T Bone Burnett. Their latest studio recording, 2017's Grammy-nominated You Don't Own Me Anymore (New West Records), was produced by longtime friend and mentor Brandi Carlile, who says, "They're perfect singers, disturbingly good writers, and two of the funniest people I know."

Hawktail

The string players who make up Hawktail are four of the finest around. Brittany Haas, whose 2004 self-titled release became the touchstone for a generation of old-time fiddlers, has since lent her sound to Crooked Still, David Rawlings, and more. Paul Kowert is well known as Punch Brothers' virtuosic bassist. Jordan Tice is a creative guitarist whose music showcases a particular knack for tune-writing. The newest member of the group is mandolinist Dominick Leslie; his versatility and rhythmic sensibility have made him ubiquitous on the acoustic music scene. Unless, Hawktail's first recording as a quartet, was released last month on the Padiddle label.