Live broadcast: May 19 with Father John Misty, Neko Case, and Rory Albanese
From The Fox Theatre | Atlanta, GA
Photos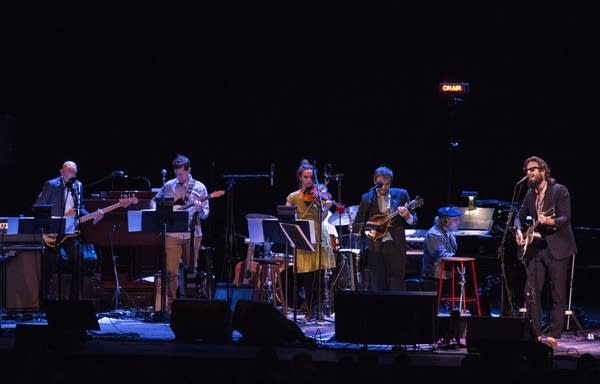 This week: we're back live with a broadcast from the beautiful Fox Theatre in Atlanta, Georgia and our guests Father John Misty, Neko Case, and comedian Rory Albanese. Joining us in the band: Madison Cunningham, Richard Dworsky, Chris Eldridge, Brittany Haas, Alan Hampton, and James McAlister. We'll also have the latest Song of the Week from Chris Thile; comedy from our acting company, Serena Brook, Tim Russell, and Fred Newman; a new batch of musicians' birthdays; Tom Papa's observations from Out. In. America; and another edition of our Instant Song Request. It's two hours of live radio you won't want to miss. Tune in.
Chris Thile

By the time Live from Here host Chris Thile turned 15, he had already been playing mandolin for a decade. He'd also started Nickel Creek with Sara and Sean Watkins, and released his first solo recording, 1994's Leading Off. This Grammy winner and MacArthur Fellow teams up with numerous musicians in myriad styles and leads acoustic quintet Punch Brothers. His albums include Thanks for Listening (Nonesuch) 10 studio recordings originally written as Prairie Home Companion Songs of the Week. He is now in his second season hosting the show.

Richard Dworsky

Richard Dworsky, Live from Here's keyboardist, composer, arranger, and music director, has collaborated with diverse musicians -- from Yo-Yo Ma and James Taylor to Brad Paisley and Kristin Chenoweth. For 23 years, he served as pianist and music director for Garrison Keillor's A Prairie Home Companion. Rich has also provided music for documentaries on HBO and PBS, and has released many recordings of original material, including his latest, All In Due Time.

Chris Eldridge

Maybe it's the gene pool: Chris Eldridge's father was a founding member of the Seldom Scene, a group that guitarist Chris would join after earning a degree in music performance from Oberlin. He went on to start a bluegrass band, the Infamous Stringdusters, and later to critical acclaim with Punch Brothers. His 2017 duo album with guitarist Julian Lage is called Mount Royal (Free Dirt Records).

Brittany Haas

At 14, fiddler Brittany Haas began touring with Darol Anger's Republic of Strings. Now Anger says: "Britt opens the window, gets out of the way, and the music floods through in a tide of joy." The California-born Princeton University grad has performed with a number of bands, including Crooked Still and Hawktail.

Tim Russell

Mild-mannered Tim Russell one minute -- Obama, Trump, or myriad others the next. It's almost impossible to stump this "man of a thousand voices." A longtime radio personality (veteran of WDBQ in Dubuque, WCCO and KJJO in the Twin Cities, in addition to his decades-long Prairie Home stint), Tim appeared in the Robert Altman film A Prairie Home Companion and the Coen brothers' A Serious Man.

Serena Brook

Actress Serena Brook has appeared off-Broadway, on the national tour circuit, and on regional theater stages. In the Twin Cities, her work includes productions at Chanhassen Dinner Theatres, 7th House Theater, the Guthrie Theater's Dowling Studio, and the Pantages Theatre in Minneapolis. The Eagan, Minnesota, native is also a voice-over artist who can be heard on national and regional radio commercials.

Fred Newman

Sound Effects artist Fred Newman went from the storytelling of small-town Georgia to Harvard Business School and Newsweek magazine. He then veered left to become the author of MouthSounds, puppeteer for Jim Henson, and TV host of shows such as The New Mickey Mouse Club, creating voices and music for Nickelodeon's cartoon series DOUG, a symphony celebrating the Golden Gate Bridge, and the sound of Old Faithful for Yellowstone's Old Faithful Visitor Education Center — all with his mouth. He performs his own stories around the country.

Alan Hampton

Multi-instrumentalist Alan Hampton began his music career in Houston, Texas. He continued at New York City's New School and then at the Thelonious Monk Institute in L.A. He has performed internationally with Herbie Hancock, Terence Blanchard, Wayne Shorter, and more. In addition to laying down tracks for numerous musicians, Alan's own recordings include Origami for the Fire (Ash Productions).

James McAlister

When James McAlister was a kid in Tulsa, Oklahoma, he played in church in his dad's gospel band. Now the Los Angeles-based drummer, producer, composer, and multi-instrumentalist has worked with a host of artists, including Sufjan Stevens, Nico Muhly, Alexi Murdoch, Mike Andrews, and more. With Casey Foubert, he released the album Music For Drums -- using only drums, percussion, and software effects -- on the Asthmatic Kitty label.

Madison Cunningham

From a musical family, Madison Cunningham first picked up a guitar when she was only seven. By the age of 12, the California native was singing in church, along with her four younger sisters. Now, less than a decade later, she has established herself as a solo singer-songwriter with a keen understanding of her craft. Her EP, Love, Lose, Remember, came out last year.

Father John Misty

Father John Misty is the brainchild of indie rocker Josh Tillman. He has been included on "best of" lists from Entertainment Weekly to Rolling Stone, and has appeared on Saturday Night Live, Austin City Limits, The Late Show with Stephen Colbert, Late Night with Seth Meyers, and more. In addition to a stack of recordings made under the name J. Tillman, his three widely acclaimed albums as Father John Misty are Fear Fun; I Love You, Honeybear; and 2017's Pure Comedy, nominated for a Grammy. A fourth, God's Favorite Customer, comes out next month.

Neko Case

Grammy-nominated singer-songwriter and vocal powerhouse Neko Case is known to many through her work with Canadian band The New Pornographers, in addition to her substantial output of solo work. Her latest album — the first since 2013's The Worse Things Get, The Harder I Fight, The Harder I Fight, The More I Love You — is Hell-On, made in the wake of a fire that destroyed her rural Vermont home. Due for release on June 1, on ANTI- Records, it "spins away from conventions of story, slipping into real life, with its fierce mess and blind catastrophes."

Rory Albanese

Rory Albanese always dreamed of being a stand-up comedian. He also needed to make a living. So in the summer of 1999, he talked his way into a production assistant job at The Daily Show with Jon Stewart. He wound up working his way up to executive producer and writer. And he was executive producer, writer, and on-air correspondent for The Nightly Show with Larry Wilmore. These days, the nine-time Emmy winner tours the country nonstop, focused full-time on stand-up. He starred in his own Comedy Central Presents half-hour special. Last summer, he taped his first hourlong special.