Rebroadcast: December 2, 2017 with Spoon, Cecile McLorin Salvant, and Carmen Lynch
From The Town Hall | New York, NY
Photos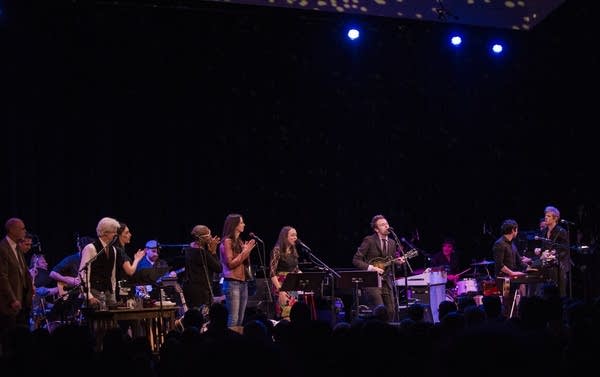 This week: one final March rebroadcast before our touring schedule kicks off in earnest. We'll rewind to December and a show at The Town Hall in Manhattan. Spoon turn things up on "Hot Thoughts" and "Do I Have to Talk You Into It"; Cécile McLorin Salvant sings "The Gentleman is a Dope" and "I've Got Your Number"; and Carmen Lynch joins us with insights on dating, money and happiness, and aging parents. Plus: our host's Song of the Week tribute to NYC, "The Dreamchasers," even more music from Sarah Jarosz and Julian Lage, a look at First Drafts of Famous Songs, and Bertrand Falstaff Heine's take on the performance art of the New York subway. Tune in this weekend and we'll see you again on April 7th with a new show, live from Minneapolis! (And make plans for the next few weekends: we'll have live video right here and over at our YouTube channel, every Saturday evening in April.)
Chris Thile

By the time Live from Here host Chris Thile turned 15, he had already been playing mandolin for a decade. He'd also started Nickel Creek with Sara and Sean Watkins, and released his first solo recording, 1994's Leading Off. This Grammy winner and MacArthur Fellow teams up with numerous musicians in myriad styles and leads acoustic quintet Punch Brothers. His albums include Thanks for Listening (Nonesuch) 10 studio recordings originally written as Prairie Home Companion Songs of the Week. He is now in his second season hosting the show.

Richard Dworsky

Richard Dworsky, Live from Here's keyboardist, composer, arranger, and music director, has collaborated with diverse musicians -- from Yo-Yo Ma and James Taylor to Brad Paisley and Kristin Chenoweth. For 23 years, he served as pianist and music director for Garrison Keillor's A Prairie Home Companion. Rich has also provided music for documentaries on HBO and PBS, and has released many recordings of original material, including his latest, All In Due Time.

Sarah Jarosz

Sarah Jarosz is a gifted instrumentalist (mandolin, guitar, banjo), distinctive vocalist, and accomplished songwriter. The New England Conservatory of Music alum has carved out a solid niche where contemporary folk, Americana, and roots music intersect. Her fourth album, Undercurrent, took Grammy Awards for Best Folk Album and Best American Roots Performance ("House of Mercy"). See You Around is the first full-length recording from I'm With Her, Sarah's trio with Aoife O'Donovan and Sara Watkins.

Ted Poor

"Adventurous, truly dynamic, and forward-thinking drumming," said Modern Drummer magazine of Ted Poor. An in-demand session player and sideman, this Eastman School of Music alum has toured worldwide with various bands, and he is currently an Artist in Residence at the University of Washington, Seattle. For the past few years, Ted has been a member of Andrew Bird's band and appears on Bird's 2016 release, Are You Serious.

Tim Russell

Mild-mannered Tim Russell one minute -- Obama, Trump, or myriad others the next. It's almost impossible to stump this "man of a thousand voices." A longtime radio personality (veteran of WDBQ in Dubuque, WCCO and KJJO in the Twin Cities, in addition to his decades-long Prairie Home stint), Tim appeared in the Robert Altman film A Prairie Home Companion and the Coen brothers' A Serious Man.

Serena Brook

Actress Serena Brook has appeared off-Broadway, on the national tour circuit, and on regional theater stages. In the Twin Cities, her work includes productions at Chanhassen Dinner Theatres, 7th House Theater, the Guthrie Theater's Dowling Studio, and the Pantages Theatre in Minneapolis. The Eagan, Minnesota, native is also a voice-over artist who can be heard on national and regional radio commercials.

Fred Newman

Sound Effects artist Fred Newman went from the storytelling of small-town Georgia to Harvard Business School and Newsweek magazine. He then veered left to become the author of MouthSounds, puppeteer for Jim Henson, and TV host of shows such as The New Mickey Mouse Club, creating voices and music for Nickelodeon's cartoon series DOUG, a symphony celebrating the Golden Gate Bridge, and the sound of Old Faithful for Yellowstone's Old Faithful Visitor Education Center — all with his mouth. He performs his own stories around the country.

Julian Lage

The New York Times has called Julian Lage "one of jazz's breezier virtuosos, possessed of an unflappable technical facility and a seemingly boundless curiosity." A former child prodigy, he boasts a résumé that a guitarist twice his age would be proud to claim. In addition to his many collaborations, Julian has released three albums as leader, most recently 2016's Arclight. Mount Royal — his duo album with guitarist Chris Eldridge — earned a Grammy nomination for Best Contemporary Instrumental Album.

Gabe Witcher

Violinist Gabe Witcher was barely school age when Bill Monroe invited him on stage to play a duet at a festival workshop. Gabe has been wowing crowds ever since, whether with the Witcher Brothers, the Laurel Canyon Ramblers, or Punch Brothers. In addition, Gabe is a sought-after producer, arranger, and session player, working with artists from Paul Simon and Elton John to Rosanne Cash and Willie Nelson.

Mike Elizondo

Musician, songwriter, and Grammy-nominated producer Mike Elizondo is best known for his 11-year collaboration with Dr. Dre, as well as for co-writing Eminem's "The Real Slim Shady," Carrie Underwood's "Cowboy Casanova," and 50 Cent's "In Da Club." In course of his career, he has contributed to albums for artists across a wide range of genres, including Jay Z, Fiona Apple, Maroon 5, Mary J. Blige, Ry Cooder, Sheryl Crow, Eric Clapton, and myriad others. He is currently Senior Vice President of A&R for Warner Bros. Records.

Spoon

Hot Thoughts, the ninth studio album from indie rock band Spoon, comes with a warning: "preconceptions about Spoon are about to be obliterated." Not to worry. Rolling Stone says the group "has made maybe their best record yet -- a line that has been repeated, accurately enough, with most every record they've made." Formed in Austin, Texas, in 1993 by singer/guitarist Britt Daniel and drummer Jim Eno, Spoon includes bassist Rob Pope, keyboardist Alex Fischel, and Gerardo Larios on keyboard and guitar.

Cecile McLorin Salvant

"You get a singer like this once in a generation or two," said Wynton Marsalis of Cécile McLorin Salvant. The Miami-born, Grammy-winning jazz vocalist grew up in a French-speaking household with her Haitian father and French mother. At 18, she moved to France to study law as well as classical and baroque voice. But within a couple of years, she had found an interest in jazz, recorded her first album, and won the 2010 Thelonious Monk International Jazz Competition. Her latest recording is Dreams and Daggers (Mack Avenue). At the piano: Sullivan Fortner.

Carmen Lynch

Carmen Lynch earned a psychology degree from the College of William and Mary. Then she applied to join the FBI, but failed the psychology portion of the exam. Now, that's funny -- and so is Carmen. The New York-based standup comedian has appeared on Conan, The Late Show (with Letterman and Colbert), Inside Amy Schumer, and more. For her podcast, RANDOS, she interviews random people she meets in her travels. Her comedy album is Dance Like You Don't Need the Money.