Live broadcast: March 10, 2018 with The Wood Brothers, Phoebe Bridgers, and Bobcat Goldthwait
From ASU Gammage | Tempe, AZ
Photos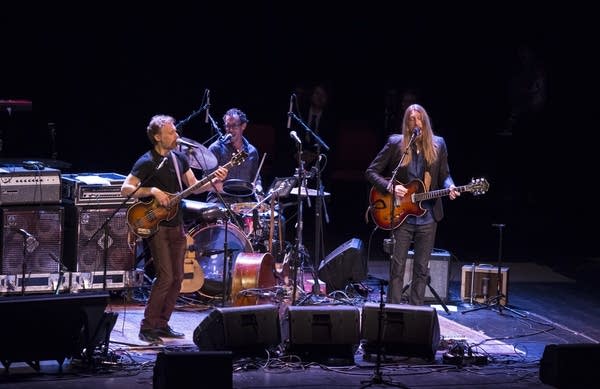 This week: we're heading southwest for a live broadcast from ASU Gammage in Tempe, Arizona. Joining us for a respite from the tail-end of winter are The Wood Brothers, with a blend of sharp harmonies and a few sublime, sometimes rowdy numbers; Phoebe Bridgers, bringing fabulous songs full of conversational, finely detailed observations; and, comedian and star both in front of and behind the lens, Mr. Bobcat Goldthwait. Our host, Chris Thile, is polishing up a brand-new Song of the Week; our band — Madison Cunningham, Rich Dworsky, Alan Hampton, Ted Poor, Bryan Sutton, and Gabe Witcher — is brushing up on our latest salute to musicians' birthdays; and our acting company — Serena Brook, Tim Russell, and Fred Newman — is preparing for the sunshine with a little SPF 30, you know, just in case. All that and Tom Papa is on hand to share the latest from Out. In. America. We're live from the land of the Cactus League this Saturday — join us on the public radio end of the dial.
Chris Thile

By the time Live from Here host Chris Thile turned 15, he had already been playing mandolin for a decade. He'd also started Nickel Creek with Sara and Sean Watkins, and released his first solo recording, 1994's Leading Off. This Grammy winner and MacArthur Fellow teams up with numerous musicians in myriad styles and leads acoustic quintet Punch Brothers. His albums include Thanks for Listening (Nonesuch) 10 studio recordings originally written as Prairie Home Companion Songs of the Week. He is now in his second season hosting the show.

Richard Dworsky

Richard Dworsky, Live from Here's keyboardist, composer, arranger, and music director, has collaborated with diverse musicians -- from Yo-Yo Ma and James Taylor to Brad Paisley and Kristin Chenoweth. For 23 years, he served as pianist and music director for Garrison Keillor's A Prairie Home Companion. Rich has also provided music for documentaries on HBO and PBS, and has released many recordings of original material, including his latest, All In Due Time.

Ted Poor

"Adventurous, truly dynamic, and forward-thinking drumming," said Modern Drummer magazine of Ted Poor. An in-demand session player and sideman, this Eastman School of Music alum has toured worldwide with various bands, and he is currently an Artist in Residence at the University of Washington, Seattle. For the past few years, Ted has been a member of Andrew Bird's band and appears on Bird's 2016 release, Are You Serious.

Tim Russell

Mild-mannered Tim Russell one minute -- Obama, Trump, or myriad others the next. It's almost impossible to stump this "man of a thousand voices." A longtime radio personality (veteran of WDBQ in Dubuque, WCCO and KJJO in the Twin Cities, in addition to his decades-long Prairie Home stint), Tim appeared in the Robert Altman film A Prairie Home Companion and the Coen brothers' A Serious Man.

Serena Brook

Actress Serena Brook has appeared off-Broadway, on the national tour circuit, and on regional theater stages. In the Twin Cities, her work includes productions at Chanhassen Dinner Theatres, 7th House Theater, the Guthrie Theater's Dowling Studio, and the Pantages Theatre in Minneapolis. The Eagan, Minnesota, native is also a voice-over artist who can be heard on national and regional radio commercials.

Fred Newman

Sound Effects artist Fred Newman went from the storytelling of small-town Georgia to Harvard Business School and Newsweek magazine. He then veered left to become the author of MouthSounds, puppeteer for Jim Henson, and TV host of shows such as The New Mickey Mouse Club, creating voices and music for Nickelodeon's cartoon series DOUG, a symphony celebrating the Golden Gate Bridge, and the sound of Old Faithful for Yellowstone's Old Faithful Visitor Education Center — all with his mouth. He performs his own stories around the country.

Alan Hampton

Multi-instrumentalist Alan Hampton began his music career in Houston, Texas. He continued at New York City's New School and then at the Thelonious Monk Institute in L.A. He has performed internationally with Herbie Hancock, Terence Blanchard, Wayne Shorter, and more. In addition to laying down tracks for numerous musicians, Alan's own recordings include Origami for the Fire (Ash Productions).

Gabe Witcher

Violinist Gabe Witcher was barely school age when Bill Monroe invited him on stage to play a duet at a festival workshop. Gabe has been wowing crowds ever since, whether with the Witcher Brothers, the Laurel Canyon Ramblers, or Punch Brothers. In addition, Gabe is a sought-after producer, arranger, and session player, working with artists from Paul Simon and Elton John to Rosanne Cash and Willie Nelson.

Madison Cunningham

From a musical family, Madison Cunningham first picked up a guitar when she was only seven. By the age of 12, the California native was singing in church, along with her four younger sisters. Now, less than a decade later, she has established herself as a solo singer-songwriter with a keen understanding of her craft. Her EP, Love, Lose, Remember, came out last year.

Bryan Sutton

Bryan Sutton started playing guitar in his North Carolina family band, the Pisgah Pickers, when he was barely big enough to hold the instrument. Since then, he has been named IBMA Guitar Player of the Year nine times. In addition to his solo work and his association with dozens of top-flight performers, he's a longtime member of Hot Rize, one of the most lauded bluegrass outfits around. His albums include The More I Learn (Sugar Hill).

Phoebe Bridgers

Phoebe Bridgers spent her teenage years busking at farmers markets and having her mom cart her from one open mic to another around Los Angeles and Pasadena. Now the singer-songwriter has won praise from critics and fellow musicians. Ryan Adams has compared her to Bob Dylan. From John Mayer: "This is the arrival of a giant." Her debut full-length album, Stranger in the Alps, was released last year on the Dead Oceans label.

The Wood Brothers

Growing up in Boulder, Colorado, The Wood Brothers — Oliver on guitars and Chris on bass — soaked up poetry and American roots music from their parents. After going their separate ways, they wound up forming a duo in 2004, shortly after playing a double bill where Oliver sat in with Chris's New York jazz/funk band, Medeski Martin & Wood. In 2011, multi-instrumentalist Jano Rix joined the group. Now based in Nashville, The Wood Brothers just released their sixth album, One Drop of Truth (Thirty Tigers Records).

Bobcat Goldthwait

Bobcat Goldthwait was already doing stand-up gigs while still at Bishop Grimes Jr./Sr. High School in East Syracuse, New York. Over his decades-long career, he has amassed legions of fans with his brutally honest, outrageous, and offbeat comedy. As edgy as ever, his stand-up continues to draw crowds at major clubs across the country. He has also made his mark as a writer, director, actor, and voice artist. In September, his genre-mashing comedy series Bobcat Goldthwait's Misfits & Monsters is scheduled to premiere on truTV.