Rebroadcast: October 21, 2017 with Randy Newman, Margo Price, and Alice Wetterlund
From The Fitzgerald Theater | Saint Paul, MN
Videos from the Show
Music For Leaves That Are Changing Colors and Not Making Me Think About My Own Mortality
Song of the Week for October 21, 2017
Retirement Box
October 21, 2017
Putin - Randy Newman
October 21, 2017
Do Right By Me - Margo Price
October 21, 2017
Gourdgeous Gourds
October 21, 2017
Pay Gap - Margo Price
October 21, 2017
Out in America - Tom Papa
October 21, 2017
I Close My Eyes - Madison Cunningham
October 21, 2017
Drumolinist
October 21, 2017
It's Money That I Love - Randy Newman
October 21, 2017
Grandpatown
October 21, 2017
Josh Ritter, Jelly Roll Morton, Esperanza Spalding, Shinichi Suzuki, Chuck Berry, and Charles Ives
Josh Ritter, Jelly Roll Morton, Esperanza Spalding, Shinichi Suzuki, Chuck Berry, and Charles Ives
Super Anxious Anonymous - December 9, 2017
Super Anxious Anonymous - December 9, 2017
Pick Your Own Apples
October 21, 2017
Alice Wetterlund
October 21, 2017
You've Got a Friend in Me - Randy Newman
October 21, 2017
She Chose Me - Randy Newman
October 21, 2017
Photos from the Show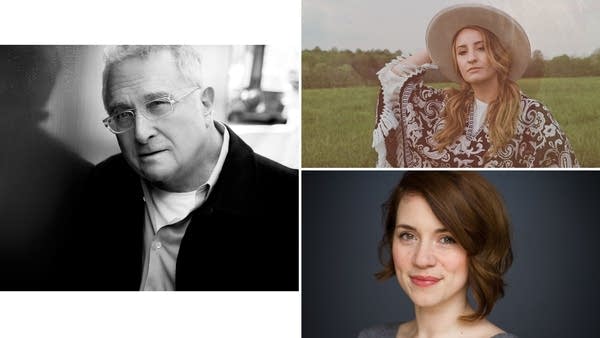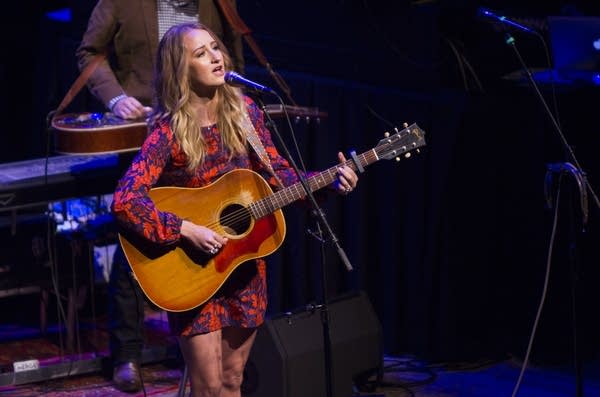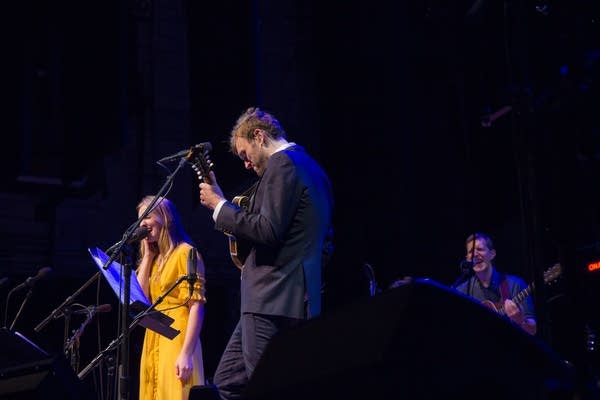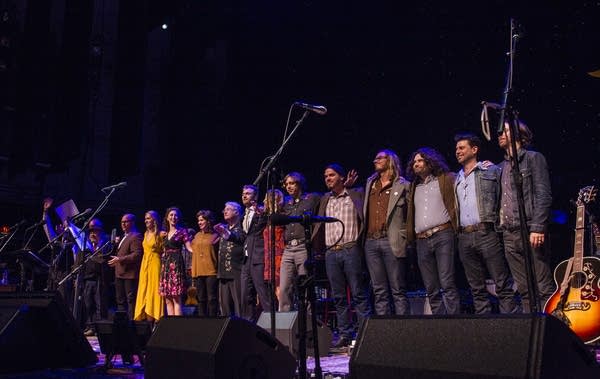 This week: our third and final February rebroadcast, originally from mid-October at the Fitzgerald Theater in Saint Paul. Randy Newman sings "Putin" and "It's Money That I Love," Margo Price performs "Pay Gap" and "Do Right By Me," and Alice Wetterlund shares a few thoughts on Minnesota culture. Plus: Chris Thile's first instrumental Song of the Week, "Music For Leaves That Are Changing Colors and Not Making Me Think About My Own Mortality"; Madison Cunningham plays "I Close My Eyes"; we check in on an episode of "Gourdgeous Gourds"; and a word from our sponsor, the Vanguard Retirement Box. Tune in this weekend for a fall rewind, and then we'll see you back live from the Fitz on February 24th for a brand-new broadcast!
Chris Thile

By the time Live from Here host Chris Thile turned 15, he had already been playing mandolin for a decade. He'd also started Nickel Creek with Sara and Sean Watkins, and released his first solo recording, 1994's Leading Off. This Grammy winner and MacArthur Fellow teams up with numerous musicians in myriad styles and leads acoustic quintet Punch Brothers. His albums include Thanks for Listening (Nonesuch) 10 studio recordings originally written as Prairie Home Companion Songs of the Week. He is now in his second season hosting the show.

Richard Dworsky

Richard Dworsky, Live from Here's keyboardist, composer, arranger, and music director, has collaborated with diverse musicians -- from Yo-Yo Ma and James Taylor to Brad Paisley and Kristin Chenoweth. For 23 years, he served as pianist and music director for Garrison Keillor's A Prairie Home Companion. Rich has also provided music for documentaries on HBO and PBS, and has released many recordings of original material, including his latest, All In Due Time.

Chris Eldridge

Maybe it's the gene pool: Chris Eldridge's father was a founding member of the Seldom Scene, a group that guitarist Chris would join after earning a degree in music performance from Oberlin. He went on to start a bluegrass band, the Infamous Stringdusters, and later to critical acclaim with Punch Brothers. His 2017 duo album with guitarist Julian Lage is called Mount Royal (Free Dirt Records).

Brittany Haas

At 14, fiddler Brittany Haas began touring with Darol Anger's Republic of Strings. Now Anger says: "Britt opens the window, gets out of the way, and the music floods through in a tide of joy." The California-born Princeton University grad has performed with a number of bands, including Crooked Still and Hawktail.

Paul Kowert

Paul Kowert started on violin at age three, but by fourth grade he'd taken up bass, and he later graduated from the Curtis Institute of Music. The Nashville-based musician is a member of Punch Brothers and Hawktail, and has toured with Mike Marshall's Big Trio and Dave Rawlings Machine.

Tim Russell

Mild-mannered Tim Russell one minute -- Obama, Trump, or myriad others the next. It's almost impossible to stump this "man of a thousand voices." A longtime radio personality (veteran of WDBQ in Dubuque, WCCO and KJJO in the Twin Cities, in addition to his decades-long Prairie Home stint), Tim appeared in the Robert Altman film A Prairie Home Companion and the Coen brothers' A Serious Man.

Serena Brook

Actress Serena Brook has appeared off-Broadway, on the national tour circuit, and on regional theater stages. In the Twin Cities, her work includes productions at Chanhassen Dinner Theatres, 7th House Theater, the Guthrie Theater's Dowling Studio, and the Pantages Theatre in Minneapolis. The Eagan, Minnesota, native is also a voice-over artist who can be heard on national and regional radio commercials.

Fred Newman

Sound Effects artist Fred Newman went from the storytelling of small-town Georgia to Harvard Business School and Newsweek magazine. He then veered left to become the author of MouthSounds, puppeteer for Jim Henson, and TV host of shows such as The New Mickey Mouse Club, creating voices and music for Nickelodeon's cartoon series DOUG, a symphony celebrating the Golden Gate Bridge, and the sound of Old Faithful for Yellowstone's Old Faithful Visitor Education Center — all with his mouth. He performs his own stories around the country.

Matt Chamberlain

Drummer, composer, producer, engineer Matt Chamberlain knows his way around classical, rock, jazz, avant-garde -- you name it. You've heard him on TV and movie soundtracks, and he has toured and/or recorded with everyone from Soundgarden and Tori Amos to David Bowie and Elton John, to name just a few. His latest solo project is Comet B, released earlier this year on the Yanki Arc label.

Randy Newman

Over an extraordinary career spanning more than 50 years, Randy Newman has written dozens of unforgettable songs and composed a slew of movie scores. A 2013 inductee into the Rock and Roll Hall of Fame, he has six Grammys to his credit, and his 20 Academy Award nominations have yielded two wins. Born into a family of eminent musicians -- his uncles Alfred, Lionel, and Emil were esteemed film composers and conductors -- Randy Newman was already a professional songwriter at the age of 17. His new CD is Dark Matter (Nonesuch).

Margo Price

"Now that you're having success, what are you going to write about?" folks have asked singer-songwriter Margo Price. Not to worry. Her first solo album, 2016's Midwest Farmer's Daughter, made her a best-selling artist, but there's plenty of compelling material yet to come from this prolific writer with a knack for candid self-reflection. Her brand-new recording is All American Made (Third Man Records).

Alice Wetterlund

Alice Wetterlund has performed her "non-yelling" brand of comedy at colleges, clubs, and festivals across the country. The Minneapolis-born, LA-based comedian was a New Face for the 2013 Just for Laughs Comedy Festival in Montreal, and was on the official lineup for FOX Night of Comedy. A regular on the TBS series People of Earth, she also co-hosts the popular podcast Treks and the City. Her film credits include Mike and Dave Need Wedding Dates.

Madison Cunningham

From a musical family, Madison Cunningham first picked up a guitar when she was only seven. By the age of 12, the California native was singing in church, along with her four younger sisters. Now, less than a decade later, she has established herself as a solo singer-songwriter with a keen understanding of her craft. Her EP, Love, Lose, Remember, came out last year.