Live Broadcast: January 6, 2018 with I'm With Her, Eugene Izotov and the San Francisco Conservatory of Music, and Jenny Zigrino
From Davies Symphony Hall | San Francisco, CA
Photos from the Show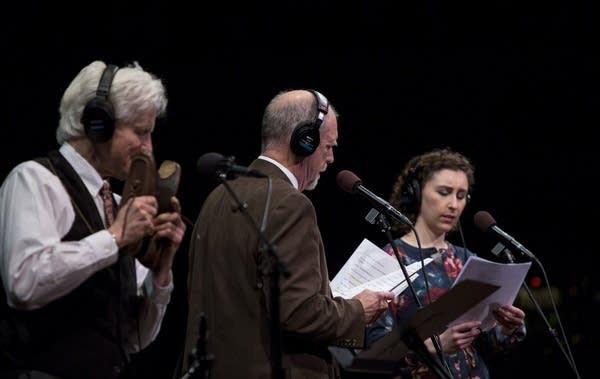 Video from the Show
January 2018, Part One - January 6, 2018
Song of the Week
Cooking With Christmas Trees
January 6, 2018
See You Around - I'm With Her
January 6, 2018
Game to Lose - I'm With Her
January 6, 2018
Low Self-Esteem, Inc.
January 6, 2017
Crow Molly / Ship in the Clouds
January 6, 2018
Hermana Rosetta - Gaby Moreno
January 6, 2018
Out in America - Tom Papa
January 6, 2018
Piece en forme de Habanera - Eugene Izotov & Jon Nakamatsu
January 6, 2018
Paganini Etude No. 6 in A minor - Charlotte Wong
January 6, 2018
Overland - I'm With Her
January 6, 2018
Better Baby
January 6, 2018
Musician Birthdays - January 6, 2018
=Rick Danko, Elizabeth Cotton, Donna Summer, Skeeter Davis, and Francis Poulenc
III. Rondo: Allegro from Oboe Quartet in F major
January 6, 2018
Jenny Zigrino
January 6, 2018
Fantasie-Impromptu - Jon Nakamatsu
January 6, 2018
Gold Rush Town
January 6, 2018
Little Lies - I'm With Her
January 6, 2018
Gentle On My Mind
January 6, 2018
This week: kick off a brand-new year with a brand-new Live From Here. We're heading to the Davies Symphony Hall in San Francisco, California for our first live broadcast of 2018. We'll welcome the virtuosic harmony trio I'm With Her, made up of our friends Sara Watkins, Sarah Jarosz, and Aoife O'Donovan; Eugene Izotov and the San Francisco Conservatory of Music, featuring faculty and students from the illustrious institution just down the road; and comedian Jenny Zigrino, fresh off her new Comedy Central Half Hour. Singer Gaby Moreno joins us for the first time this season to accompany Chris Thile and The First-Call Radio Players -- Rich Dworsky on keys, Brittany Haas on fiddle, bassist Alan Hampton, guitarist Julian Lage, and drummer Ted Poor -- on the Song of the Week, and more. Plus: a new Out. In. America. segment from Tom Papa; scripts from Serena Brook, Tim Russell, and Fred Newman; and a batch of early-January musicians' birthdays. Make your way down to the public radio end of the dial and join us this Saturday evening.
Download the Song of the Week, "January 2018, Part 1"
Chris Thile

By the time Chris Thile turned 15, he had already been playing mandolin for a decade. He'd also started Nickel Creek with Sara and Sean Watkins, and released his first solo recording, 1994's Leading Off. This Grammy winner and MacArthur Fellow teams up with numerous musicians in myriad styles and leads acoustic quintet Punch Brothers. His albums include Thanks for Listening (Nonesuch) 10 studio recordings originally written as Prairie Home Companion Songs of the Week. He is now in his second season hosting the show.

Richard Dworsky

Richard Dworsky, Live from Here's keyboardist, composer, arranger, and music director, has collaborated with diverse musicians -- from Yo-Yo Ma and James Taylor to Brad Paisley and Kristin Chenoweth. For 23 years, he served as pianist and music director for Garrison Keillor's A Prairie Home Companion. Rich has also provided music for documentaries on HBO and PBS, and has released many recordings of original material, including his latest, All In Due Time.

Brittany Haas

At 14, fiddler Brittany Haas began touring with Darol Anger's Republic of Strings. Now Anger says: "Britt opens the window, gets out of the way, and the music floods through in a tide of joy." The California-born Princeton University grad has performed with a number of bands, including Crooked Still and Hawktail (with bassist Paul Kowert, guitarist Jordan Tice, and mandolinist Dominick Leslie). Among her recordings is 2014's You Got This (Haas Kowert Tice).

Ted Poor

"Adventurous, truly dynamic, and forward-thinking drumming," said Modern Drummer magazine of Ted Poor. An in-demand session player and sideman, this Eastman School of Music alum has toured worldwide with various bands, and he is currently an Artist in Residence at the University of Washington, Seattle. For the past few years, Ted has been a member of Andrew Bird's band and appears on Bird's 2016 release, Are You Serious.

Tim Russell

Mild-mannered Tim Russell one minute -- Obama, Trump, or myriad others the next. It's almost impossible to stump this "man of a thousand voices." A longtime radio personality (veteran of WDBQ in Dubuque, WCCO and KJJO in the Twin Cities, in addition to his decades-long Prairie Home stint), Tim appeared in the Robert Altman film A Prairie Home Companion and the Coen brothers' A Serious Man.

Serena Brook

Actress Serena Brook has appeared off-Broadway, on the national tour circuit, and on regional theater stages. In the Twin Cities, her work includes productions at Chanhassen Dinner Theatres, 7th House Theater, the Guthrie Theater's Dowling Studio, and the Pantages Theatre in Minneapolis. The Eagan, Minnesota, native is also a voice-over artist who can be heard on national and regional radio commercials.

Fred Newman

Sound Effects artist Fred Newman went from the storytelling of small-town Georgia to Harvard Business School and Newsweek magazine. He then veered left to become the author of MouthSounds, puppeteer for Jim Henson, and TV host of shows such as The New Mickey Mouse Club, creating voices and music for Nickelodeon's cartoon series DOUG, a symphony celebrating the Golden Gate Bridge, and the sound of Old Faithful for Yellowstone's Old Faithful Visitor Education Center — all with his mouth. He performs his own stories around the country.

Alan Hampton

Multi-instrumentalist Alan Hampton began his music career in Houston, Texas. He continued at New York City's New School and then at the Thelonious Monk Institute in L.A. He has performed internationally with Herbie Hancock, Terence Blanchard, Wayne Shorter, and more. In addition to laying down tracks for numerous musicians, Alan's own recordings include Origami for the Fire (Ash Productions).

Julian Lage

The New York Times has called Julian Lage "one of jazz's breezier virtuosos, possessed of an unflappable technical facility and a seemingly boundless curiosity." A former child prodigy, the California-born, New York-based guitarist boasts a resume that an artist twice his age would be proud to claim. In addition to his many collaborations, Julian has released three albums as leader, most recently 2016's Arclight. Mount Royal (Free Dirt Records) -- his duo album with guitarist Chris Eldridge -- earned a Grammy nomination for Best Contemporary Instrumental Album.

Gaby Moreno

Guatemalan-born Gaby Moreno was singing even before she could talk. With a style that blends blues, jazz, soul, and R&B, the Los Angeles-based singer-songwriter received an Emmy nomination for co-writing the theme song for NBC's Parks and Recreation. And she took Best New Artist honors at the 2013 Latin Grammys. She writes in both Spanish and English. "Spanish is more poetic," she says, but "in English, you can describe things better." Her latest album, 2016's Ilusion (Universal Music), earned a Latin Grammy nomination.

I'm With Her

Several years ago in Colorado, Sara Watkins, Sarah Jarosz, and Aoife O'Donovan -- each a top-flight artist in her own right -- were asked to merge their considerable talents and put together a last-minute set as the Telluride Bluegrass Festival was drawing to a close. "This should be a thing," the three thought. And now it is. Calling their collaboration I'm With Her, the trio has toured Europe, the U.K., and across the U.S. Their first full-length album, See You Around, is due out in February.

Jenny Zigrino

Comedian Jenny Zigrino has charmed audiences across the country with her wit, keen observations, embarrassing anecdotes, and brilliant honesty. Based in L.A., she spent much of her youth in Minnesota and first tried stand-up in the Twin Cities, before honing her craft during college in Boston. She has appeared on Conan and other TV shows, and her movie work includes roles in 50 Shades of Black and Bad Santa 2. Her first comedy special was filmed last spring for Comedy Central.

Eugene Izotov and the San Francisco Conservatory of Music

The 2017-2018 season marks the centennial of the San Francisco Conservatory of Music, founded in 1917 by Ada Clement and Lillian Hodghead as the Ada Clement Piano School. Recognizing the need for a music conservatory on the West Coast, the school incorporated in 1923 as the San Francisco Conservatory of Music, offering classes in many orchestral instruments as well as theory, composition, and voice. Eugene Izotov is principal oboist of the San Francisco Symphony and an SFCM faculty member. Joining him for today's performance are faculty members Jon Nakamatsu (piano), Ian Swensen (violin), Jay Liu (viola), Jennifer Culp (cello), and SFCM Pre-College student Charlotte Wong (piano).