Live Broadcast: December 9, 2017 with Bon Iver, Bela Fleck & Abigail Washburn, and Ryan Hamilton
From The Town Hall | New York, NY
Photos from the Show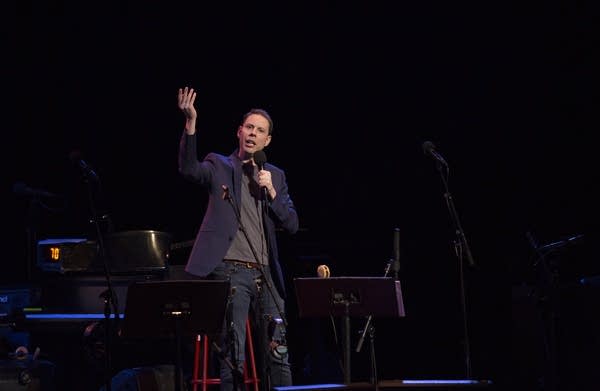 Video from the Show
Ornaments - December 9, 2017
Song of the Week
Super Anxious Anonymous
December 9, 2017
Musician Birthdays - December 9, 2017
Sinéad O'Connor, Little Richard, Jim Hall, Kate Rusby, Olivier Messiaen, and Gregg Allman
Elephant Rock - Aoife O'Donovan
December 9, 2017
Serena's Whirlwind NYC Tour
December 9, 2017
Have You Thought About Potatoes?
December 9, 2017
Miss Manhattan
December 9, 2017
Breathy Acoustic Covers
December 9, 2017
29 #Strafford APTS - Bon Iver
December 9, 2017
This week: we're live from New York for the second of three broadcasts this December from The Town Hall on West 43rd Street. We'll have songs of sacred moments, empathy, and memories from Bon Iver; banjo virtuosity from Béla Fleck and Abigail Washburn; and observations on life from Idaho-raised, New York-based comic Ryan Hamilton. Plus: another new entry in the Song of the Week canon from Chris Thile; music from our band, The First Call Radio Players -- singer Aoife O'Donovan, Richard Dworsky on keys, bassist Mike Elizondo, Alex Hargreaves on fiddle, guitarist Julian Lage, and drummer Ted Poor; and we'll dive into the joys and miseries of the holiday season and survival in the Big Apple with our acting company, Serena Brook, Tim Russell, and Fred Newman. Warm up your Twitter reflexes for this week's Instant Song Request and join us on Saturday evening.
Download the Song of the Week, "Ornaments"
Chris Thile

By the time Live from Here host Chris Thile turned 15, he had already been playing mandolin for a decade. He'd also started Nickel Creek with Sara and Sean Watkins, and released his first solo recording, 1994's Leading Off. This Grammy winner and MacArthur Fellow teams up with numerous musicians in myriad styles and leads acoustic quintet Punch Brothers. His albums include Thanks for Listening (Nonesuch) 10 studio recordings originally written as Prairie Home Companion Songs of the Week. He is now in his second season hosting the show.

Richard Dworsky

Richard Dworsky, Live from Here's keyboardist, composer, arranger, and music director, has collaborated with diverse musicians -- from Yo-Yo Ma and James Taylor to Brad Paisley and Kristin Chenoweth. For 23 years, he served as pianist and music director for Garrison Keillor's A Prairie Home Companion. Rich has also provided music for documentaries on HBO and PBS, and has released many recordings of original material, including his latest, All In Due Time.

Ted Poor

"Adventurous, truly dynamic, and forward-thinking drumming," said Modern Drummer magazine of Ted Poor. An in-demand session player and sideman, this Eastman School of Music alum has toured worldwide with various bands, and he is currently an Artist in Residence at the University of Washington, Seattle. For the past few years, Ted has been a member of Andrew Bird's band and appears on Bird's 2016 release, Are You Serious.

Tim Russell

Mild-mannered Tim Russell one minute -- Obama, Trump, or myriad others the next. It's almost impossible to stump this "man of a thousand voices." A longtime radio personality (veteran of WDBQ in Dubuque, WCCO and KJJO in the Twin Cities, in addition to his decades-long Prairie Home stint), Tim appeared in the Robert Altman film A Prairie Home Companion and the Coen brothers' A Serious Man.

Serena Brook

Actress Serena Brook has appeared off-Broadway, on the national tour circuit, and on regional theater stages. In the Twin Cities, her work includes productions at Chanhassen Dinner Theatres, 7th House Theater, the Guthrie Theater's Dowling Studio, and the Pantages Theatre in Minneapolis. The Eagan, Minnesota, native is also a voice-over artist who can be heard on national and regional radio commercials.

Fred Newman

Sound Effects artist Fred Newman went from the storytelling of small-town Georgia to Harvard Business School and Newsweek magazine. He then veered left to become the author of MouthSounds, puppeteer for Jim Henson, and TV host of shows such as The New Mickey Mouse Club, creating voices and music for Nickelodeon's cartoon series DOUG, a symphony celebrating the Golden Gate Bridge, and the sound of Old Faithful for Yellowstone's Old Faithful Visitor Education Center — all with his mouth. He performs his own stories around the country.

Alex Hargreaves

Newest member of the world-renowned Turtle Island Quartet, Alex Hargreaves is an innovative, cross-genre violinist described as "one of the greatest improvising violinists in America today" by virtuoso mandolinist/composer Mike Marshall. He has performed on stages worldwide, including Austin City Limits, the Grand Ole Opry, and the Newport Jazz and Folk Festivals. Among his recordings: The Brotet, with Samson Grisman, Dominick Leslie, and Nathaniel Smith.

Julian Lage

The New York Times has called Julian Lage "one of jazz's breezier virtuosos, possessed of an unflappable technical facility and a seemingly boundless curiosity." A former child prodigy, he boasts a résumé that a guitarist twice his age would be proud to claim. In addition to his many collaborations, Julian has released three albums as leader, most recently 2016's Arclight. Mount Royal — his duo album with guitarist Chris Eldridge — earned a Grammy nomination for Best Contemporary Instrumental Album.

Aoife O'Donovan

With her ethereal voice and substantive songwriting, Aoife O'Donovan captivates fans and critics alike. She was lead singer of the string band Crooked Still and a featured vocalist on The Goat Rodeo Sessions, the Grammy-winning album by Yo-Yo Ma, Stuart Duncan, Edgar Meyer, and Chris Thile. Her own recordings include Man In A Neon Coat: Live From Cambridge. Along with Sarah Jarosz and Sara Watkins, Aoife performs as I'm With Her, whose first full-length album, See You Around, is due out in February.

Mike Elizondo

Musician, songwriter, and Grammy-nominated producer Mike Elizondo is best known for his 11-year collaboration with Dr. Dre, as well as for co-writing Eminem's "The Real Slim Shady," Carrie Underwood's "Cowboy Casanova," and 50 Cent's "In Da Club." In course of his career, he has contributed to albums for artists across a wide range of genres, including Jay Z, Fiona Apple, Maroon 5, Mary J. Blige, Ry Cooder, Sheryl Crow, Eric Clapton, and myriad others. He is currently Senior Vice President of A&R for Warner Bros. Records.

Bon Iver

Singer, songwriter, multi-instrumentalist, producer Justin Vernon is best known as founder and frontman of Grammy-winning indie folk band Bon Iver. His frequent collaborations include artists such as Bruce Hornsby and Kanye West (who has called Justin his "favorite living artist"). In 2016, after a five-year hiatus, Bon Iver released 22, A Million (Jagjaguwar), described as "a collection of sacred moments, love's torment and salvation, contexts of intense memories, signs that you can pin meaning onto or disregard as coincidence."

Bela Fleck and Abigail Washburn

Bela Fleck and Abigail Washburn have been called "the king and queen of the banjo" -- and with good reason. Fleck, a 16-time Grammy winner, is a master of three-finger style; Washburn, a singer-songwriter and clawhammer ace, has combined American old-time music with Far East culture and sounds. The first duo recording for the couple, who married in 2009, won the 2016 Grammy for Best Folk album. Echo in the Valley -- their second album together -- was released this fall on the Rounder label and debuted at No. 1 on Billboard's Bluegrass Albums chart.

Ryan Hamilton

In 2012, Rolling Stone named Ryan Hamilton one of Five Comics To Watch. And comedy fans have been keeping an eye on this Idaho-raised, New York-based stand-up ever since. On TV, he has appeared on Conan, The Late Show with Stephen Colbert, Last Comic Standing, and other shows. And he's a favorite at clubs across the country. Happy Face, his first one-hour special, became available on Netflix this past August.