Live broadcast: October 28, 2017 with Dan Auerbach, Hilary Hahn, Robert Finley, Fiona Apple, and Nick Offerman
From Pasadena Civic Auditorium | Pasadena, CA
Photos from the Show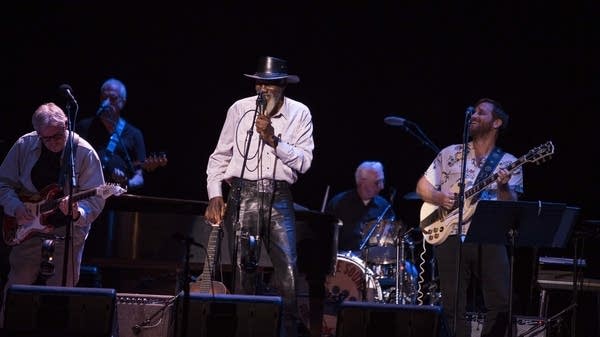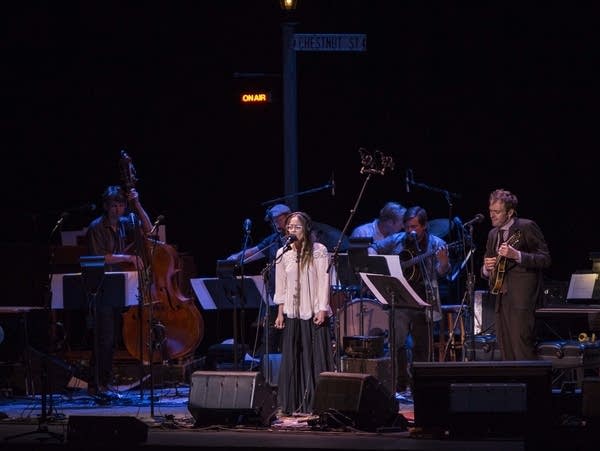 Video from the Show
Put Your Mask On - October 28, 2017
Song of the Week
Haunted HGTV
October 28, 2017
Nick Offerman
October 28, 2017
Mercy - Hilary Hahn
With Jessica Osborne October 28, 2017
"Preludio" from Violin Partita No.3 In E Major - Hilary Hahn
October 28, 2017
"Allegro" from Concerto for two Violins in D minor - Hilary Hahn
October 28, 2017
Musician Birthdays - October 28, 2017
Clifford Brown, Barbara Cook, Dwight Yoakum, Niccolò Paganini, and Mahalia Jackson
Open - October 28, 2017
October 28, 2017
Breathy Acoustic Covers
October 28, 2017
Non-Essential Oils
October 28, 2017
All At Once - Madison Cunningham
October 28, 2017
Ain't That A Shame - Fiona Apple
October 28, 2017
Every Single Night - Fiona Apple
October 28, 2017
Fast As You Can - Fiona Apple
October 28, 2017
Werewolf - Fiona Apple
October 28, 2017
This week: we head west for our first tour show of the season, live from The Pasadena Civic Auditorium in sunny Pasadena, California. As befits a visit to Tinseltown, it's a star-studded affair, with a blast of Nashville-tinged rock 'n' roll from Dan Auerbach and his band; and violin virtuosity from Hilary Hahn, including a few Bach pieces with Chris Thile. Also with us: all the way from Bernice, Louisiana, gospel-soul-blues-man Mr. Robert Finley; and one of the most mesmerizing singers your ears will ever behold, Fiona Apple. If that weren't enough, we'll be treated to wit and wisdom from comedian, actor, author, citizen, and woodworker Nick Offerman. We'll also have a new Song of the Week and a final batch of October musician birthdays from the host and our band (singer Madison Cunningham, music director Rich Dworsky on the keys, bassist Paul Kowert, drummer Ted Poor, Sean Watkins on guitar, and Gabe Witcher on fiddle); and we'll celebrate Halloween with a selection of spooky scenes featuring our Royal Academy of Radio Actors (Serena Brook, Tim Russell, and Fred Newman). Tune in this Saturday as we roll two hours of red carpet radio straight to your favorite listening device!
Download the Song of the Week, "Put Your Mask On"
Chris Thile

By the time Chris Thile turned 15, he had already been playing mandolin for a decade. He'd also started Nickel Creek with Sara and Sean Watkins, and released his first solo recording, 1994's Leading Off. This Grammy winner and MacArthur Fellow teams up with numerous musicians in myriad styles and leads acoustic quintet Punch Brothers. His albums include Thanks for Listening (Nonesuch) 10 studio recordings originally written as Prairie Home Companion Songs of the Week. He is now in his second season hosting the show.

Richard Dworsky

Richard Dworsky, Live from Here's keyboardist, composer, arranger, and music director, has collaborated with diverse musicians -- from Yo-Yo Ma and James Taylor to Brad Paisley and Kristin Chenoweth. For 23 years, he served as pianist and music director for Garrison Keillor's A Prairie Home Companion. Rich has also provided music for documentaries on HBO and PBS, and has released many recordings of original material, including his latest, All In Due Time.

Paul Kowert

At age three, Paul Kowert started on violin, but by fourth grade he'd taken up bass, and he later graduated from the Curtis Institute of Music. Now this Wisconsin-raised, Nashville-based musician is a member of Punch Brothers and has toured with Mike Marshall's Big Trio and Dave Rawlings Machine. His American roots quartet Hawktail includes mandolinist Dominick Leslie, fiddler Brittany Haas, and guitarist Jordan Tice. Their new album comes out soon.

Ted Poor

"Adventurous, truly dynamic, and forward-thinking drumming," said Modern Drummer magazine of Ted Poor. An in-demand session player and sideman, this Eastman School of Music alum has toured worldwide with various bands, and he is currently an Artist in Residence at the University of Washington, Seattle. For the past few years, Ted has been a member of Andrew Bird's band and appears on Bird's 2016 release, Are You Serious.

Tim Russell

Mild-mannered Tim Russell one minute -- Obama, Trump, or myriad others the next. It's almost impossible to stump this "man of a thousand voices." A longtime radio personality (veteran of WDBQ in Dubuque, WCCO and KJJO in the Twin Cities, in addition to his decades-long Prairie Home stint), Tim appeared in the Robert Altman film A Prairie Home Companion and the Coen brothers' A Serious Man.

Serena Brook

Actress Serena Brook has appeared off-Broadway, on the national tour circuit, and on regional theater stages. In the Twin Cities, her work includes productions at Chanhassen Dinner Theatres, 7th House Theater, the Guthrie Theater's Dowling Studio, and the Pantages Theatre in Minneapolis. The Eagan, Minnesota, native is also a voice-over artist who can be heard on national and regional radio commercials.

Fred Newman

Sound effects man Fred Newman is an actor, writer, musician, and sound designer for film and TV. Turns out, no one is more surprised than Fred that he's made a career out of doing what he used to do behind the teacher's back --crossing his eyes, making sounds, and doing voices. He readily admits that, growing up, he was unceremoniously removed from several classrooms, "once by my bottom lip."

Gabe Witcher

Violinist Gabe Witcher was barely school age when Bill Monroe invited him on stage to play a duet at a festival workshop. Gabe has been wowing crowds ever since, whether with the Witcher Brothers, the Laurel Canyon Ramblers, or Punch Brothers. In addition, Gabe is a sought-after producer, arranger, and session player, working with artists from Paul Simon and Elton John to Rosanne Cash and Willie Nelson.

Sean Watkins

Guitarist Sean Watkins is known for his work as one-third of the Grammy Award-winning Nickel Creek and, more recently, for helming, with sister Sara, the itinerant, genre-hopping Watkins Family Hour ensemble. These days, he's also making his mark as a solo artist whose latest album, What To Fear, is a follow-up to 2014's acclaimed All I Do Is Lie.

Madison Cunningham

From a musical family, Madison Cunningham first picked up a guitar when she was only seven. By the age of 12, the California native was singing in church, along with her four younger sisters. Now, less than a decade later, she has established herself as a solo singer-songwriter with a keen understanding of her craft. Her EP, Love, Lose, Remember, came out last year.

Dan Auerbach

Dan Auerbach is known to millions as front man for the Black Keys, his rock duo with drummer Patrick Carney. An Ohio native, he moved to Nashville in 2010 and opened his own studio, Easy Eye Sound, where the Black Keys recorded their last two albums. The new solo recording from this eight-time Grammy winner is Waiting On A Song, featuring collaborations with John Prine, Duane Eddy, Mark Knopfler, Jerry Douglas, and other luminaries. Band: Bubba Chrisman, Bobby Wood, David Roe, Russ Pahl, Nick Bockrath, and Robert Finley.

Hilary Hahn

Three-time Grammy Award-winning violinist Hilary Hahn is renowned for her virtuosity, expansive interpretations, and creative programming. At the age of three, she took her first violin lessons in the Suzuki program of the Peabody Institute in her hometown of Baltimore; at 10, she was admitted to the Curtis Institute of Music. She has released 16 albums on the Deutsche Grammophon and Sony labels. The latest is Mozart 5, Vieuxtemps 4 -- Violin Concertos (Deutsche Grammophon). At the piano: Jessica Osborne.

Robert Finley

When Robert Finley was 11, his father gave him money to buy new shoes. Robert bought a guitar instead. Looking back, it wasn't a bad idea. The kid from Bernice, Louisiana, started writing songs; more than half a century later, he hasn't stopped. His debut studio recording, Age Don't Mean a Thing, was released last year. A new album, Goin' Platinum!, comes out in December.

Fiona Apple

"One of the most mesmerizing live performers in all of music," said a Rolling Stone writer of Fiona Apple. Her debut recording, Tidal, won a Grammy for Best Female Rock Vocal Performance for the single "Criminal." Other CDs include When the Pawn Hits the Conflicts He Thinks like a King What He Knows Throws the Blows When He Goes to the Fight and He'll Win the Whole Thing 'fore He Enters the Ring There's No Body to Batter When Your Mind Is Your Might so When You Go Solo, You Hold Your Own Hand and Remember That Depth Is the Greatest of Heights and If You Know Where You Stand, Then You Know Where to Land and If You Fall It Won't Matter, Cuz You'll Know That You're Right; Extraordinary Machine; and The Idler Wheel Is Wiser Than the Driver of the Screw and Whipping Cords Will Serve You More Than Ropes Will Ever Do (Epic Records). And while it's often years between Fiona Apple albums, her fans worldwide will tell you, it's absolutely worth the wait.

Nick Offerman

This year alone, actor, author, and woodworker Nick Offerman has been seen (or heard) in a half dozen movies, including The Hero and The Little Hours. But he may best known in the role of Ron Swanson on the NBC series Parks & Recreation. His best-selling books are Paddle Your Own Canoe: One Man's Fundamentals for Delicious Living; Gumption: Relighting the Torch of Freedom with America's Gutsiest Troublemakers; and Good Clean Fun: Misadventures in Sawdust at Offerman Woodshop.