October 21, 2017 broadcast with Randy Newman, Margo Price, and Alice Wetterlund
From The Fitzgerald Theater | Saint Paul, MN
Photos from the Show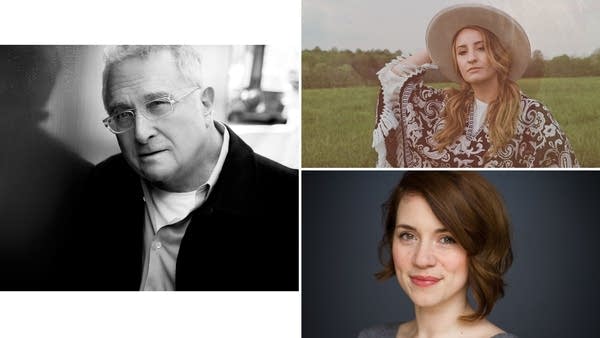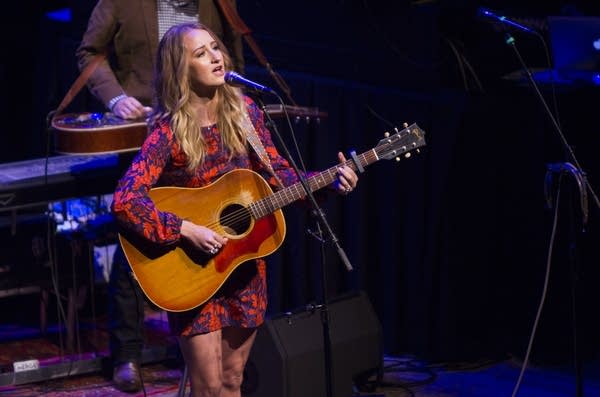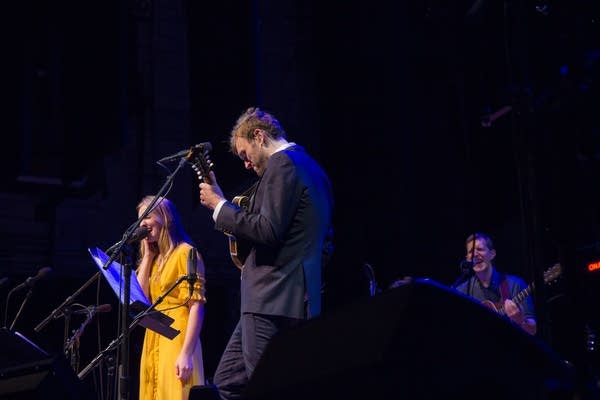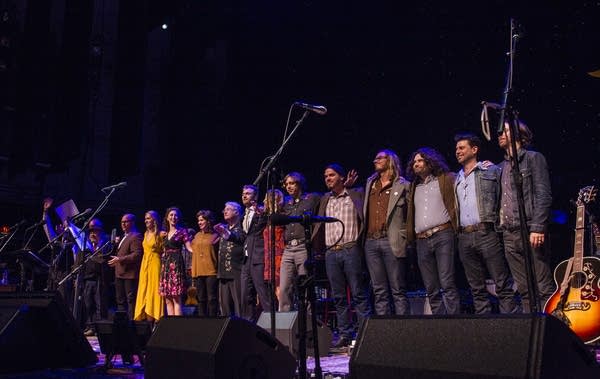 Video from the Show
Music For Leaves That Are Changing Colors and Not Making Me Think About My Own Mortality
Song of the Week for October 21, 2017
Gourdgeous Gourds
October 21, 2017
Retirement Box
October 21, 2017
Alice Wetterlund
October 21, 2017
You've Got a Friend in Me - Randy Newman
October 21, 2017
She Chose Me - Randy Newman
October 21, 2017
Putin - Randy Newman
October 21, 2017
Pay Gap - Margo Price
October 21, 2017
It's Money That I Love - Randy Newman
October 21, 2017
Do Right By Me - Margo Price
October 21, 2017
Out in America - Tom Papa
October 21, 2017
Drumolinist
October 21, 2017
Grandpatown
October 21, 2017
Pick Your Own Apples
October 21, 2017
I Close My Eyes - Madison Cunningham
October 21, 2017
This week: we're back at the Fitzgerald Theater in Saint Paul, Minnesota for one more hometown broadcast before we head off on the road for visits to Pasadena, San Diego, New York, and beyond. We'll have composer, singer, arranger, and pianist Randy Newman for songs full of wit, warmth, and well-honed satire; Margo Price brings her crackling band up from Nashville to turn the Fitz into a honky tonk for an evening; and Alice Wetterlund, originally of Minnesota and now making her home out in California, joins us for a bit of comedy. Plus: the third Song of the Week this season from host Chris Thile; Tom Papa is back with an update from Out in America; music from public radio's finest variety show ensemble (singer Madison Cunningham, pianist and music director Rich Dworsky, drummer Matt Chamberlain, guitarist Chris Eldridge, Brittany Haas on fiddle, and bassist Paul Kowert); leaves crunching, overhead geese, apple-cheeked conversation, and more autumn hallmarks from our Royal Academy of Radio Actors (Serena Brook, Tim Russell, and Fred Newman); a fresh selection of musician birthdays; and a song request straight from you, the listeners. It's almost more entertainment than can comfortably fit into two hours, but we'll do our very best -- tune in on your local public radio station or watch live (5 p.m. - 7 p.m. Central Time) at prairiehome.org!
Download the Song of the Week, "Music For Leaves That Are Changing Colors and Not Making Me Think About My Own Mortality"
Download the full score for "Music For Leaves That Are Changing Colors and Not Making Me Think About My Own Mortality"
Download the acoustic guitar chart for "Music For Leaves That Are Changing Colors and Not Making Me Think About My Own Mortality"
Chris Thile

By the time Chris Thile turned 15, he had already been playing mandolin for a decade. He'd also started Nickel Creek with Sara and Sean Watkins, and released his first solo recording, 1994's Leading Off. This Grammy winner and MacArthur Fellow teams up with numerous musicians in myriad styles and leads acoustic quintet Punch Brothers. His albums include Thanks for Listening (Nonesuch) 10 studio recordings originally written as Prairie Home Companion Songs of the Week. He is now in his second season hosting the show.

Richard Dworsky

Richard Dworsky, Live from Here's keyboardist, composer, arranger, and music director, has collaborated with diverse musicians -- from Yo-Yo Ma and James Taylor to Brad Paisley and Kristin Chenoweth. For 23 years, he served as pianist and music director for Garrison Keillor's A Prairie Home Companion. Rich has also provided music for documentaries on HBO and PBS, and has released many recordings of original material, including his latest, All In Due Time.

Chris Eldridge

Maybe it's the gene pool: Chris Eldridge's father was a founding member of the Seldom Scene, a group that guitarist Chris would join after earning a degree in music performance from Oberlin. He went on to start a bluegrass band, the Infamous Stringdusters, and later to critical acclaim with Punch Brothers. Mount Royal, his 2017 duo album with guitarist Julian Lage, is nominated for a Grammy Award (Best Contemporary Instrumental Album).

Brittany Haas

At 14, fiddler Brittany Haas began touring with Darol Anger's Republic of Strings. Now Anger says: "Britt opens the window, gets out of the way, and the music floods through in a tide of joy." The California-born Princeton University grad has performed with a number of bands, including Crooked Still and Hawktail (with bassist Paul Kowert, guitarist Jordan Tice, and mandolinist Dominick Leslie). Among her recordings is 2014's You Got This (Haas Kowert Tice).

Paul Kowert

At age three, Paul Kowert started on violin, but by fourth grade he'd taken up bass, and he later graduated from the Curtis Institute of Music. Now this Wisconsin-raised, Nashville-based musician is a member of Punch Brothers and has toured with Mike Marshall's Big Trio and Dave Rawlings Machine. His American roots quartet Hawktail includes mandolinist Dominick Leslie, fiddler Brittany Haas, and guitarist Jordan Tice. Their new album comes out soon.

Tim Russell

Mild-mannered Tim Russell one minute -- Obama, Trump, or myriad others the next. It's almost impossible to stump this "man of a thousand voices." A longtime radio personality (veteran of WDBQ in Dubuque, WCCO and KJJO in the Twin Cities, in addition to his decades-long Prairie Home stint), Tim appeared in the Robert Altman film A Prairie Home Companion and the Coen brothers' A Serious Man.

Serena Brook

Actress Serena Brook has appeared off-Broadway, on the national tour circuit, and on regional theater stages. In the Twin Cities, her work includes productions at Chanhassen Dinner Theatres, 7th House Theater, the Guthrie Theater's Dowling Studio, and the Pantages Theatre in Minneapolis. The Eagan, Minnesota, native is also a voice-over artist who can be heard on national and regional radio commercials.

Fred Newman

Sound effects man Fred Newman is an actor, writer, musician, and sound designer for film and TV. Turns out, no one is more surprised than Fred that he's made a career out of doing what he used to do behind the teacher's back --crossing his eyes, making sounds, and doing voices. He readily admits that, growing up, he was unceremoniously removed from several classrooms, "once by my bottom lip."

Matt Chamberlain

Drummer, composer, producer, engineer Matt Chamberlain knows his way around classical, rock, jazz, avant-garde -- you name it. You've heard him on TV and movie soundtracks, and he has toured and/or recorded with everyone from Soundgarden and Tori Amos to David Bowie and Elton John, to name just a few. His latest solo project is Comet B, released earlier this year on the Yanki Arc label.

Randy Newman

Over an extraordinary career spanning more than 50 years, Randy Newman has written dozens of unforgettable songs and composed a slew of movie scores. A 2013 inductee into the Rock and Roll Hall of Fame, he has six Grammys to his credit, and his 20 Academy Award nominations have yielded two wins. Born into a family of eminent musicians -- his uncles Alfred, Lionel, and Emil were esteemed film composers and conductors -- Randy Newman was already a professional songwriter at the age of 17. His new CD is Dark Matter (Nonesuch).

Margo Price

"Now that you're having success, what are you going to write about?" folks have asked singer-songwriter Margo Price. Not to worry. Her first solo album, 2016's Midwest Farmer's Daughter, made her a best-selling artist, but there's plenty of compelling material yet to come from this prolific writer with a knack for candid self-reflection. Her brand-new recording is All American Made (Third Man Records).

Alice Wetterlund

Alice Wetterlund has performed her "non-yelling" brand of comedy at colleges, clubs, and festivals across the country. The Minneapolis-born, LA-based comedian was a New Face for the 2013 Just for Laughs Comedy Festival in Montreal, and was on the official lineup for FOX Night of Comedy. A regular on the TBS series People of Earth, she also co-hosts the popular podcast Treks and the City. Her film credits include Mike and Dave Need Wedding Dates.

Madison Cunningham

From a musical family, Madison Cunningham first picked up a guitar when she was only seven. By the age of 12, the California native was singing in church, along with her four younger sisters. Now, less than a decade later, she has established herself as a solo singer-songwriter with a keen understanding of her craft. Her EP, Love, Lose, Remember, came out last year.