February 4, 2017 broadcast with Amos Lee, Jenny Lewis, and Nate Bargatze
From Ryman Auditorium | Nashville, TN
Photos from the Show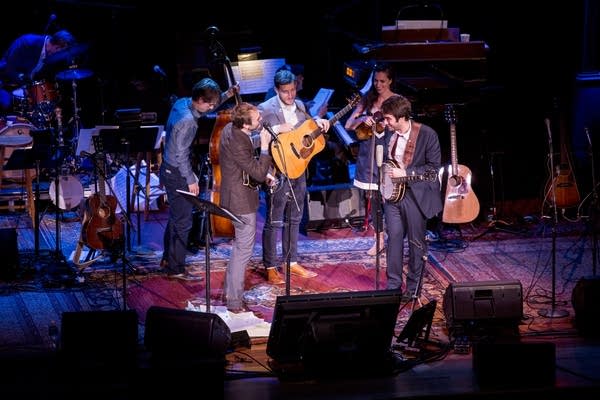 Video from the Show
Falsetto
Song of the Week - February 4, 2017
One Lonely Light - Amos Lee
February 4, 2017
Wait Up for Me - Amos Lee
February 4, 2017
Tricksters, Hucksters, and Scamps - Amos Lee
February 4, 2017
Autocorrect Playhouse
February 4, 2017
The Ballad of Buddy Lee
February 4, 2017
Waveland - Noam Pikelny
February 4, 2017
Why Did You Wander?
February 4, 2017
Carl's March script
February 4, 2017
Bertrand Falstaff Heine script
February 4, 2017
Le Poulet Chaud Café script
February 4, 2017
Musician Birthdays - February 4, 2017
Etta James, Justin Timberlake, Norma Jean, Franz Schubert, and Del McCoury and Jason Carter
You Turn Me On, I'm a Radio - Aoife O'Donovan
February 4, 2017
This week: we head south to kick off our final run of live broadcasts this season with a visit to the Ryman Auditorium in Nashville, Tennessee, with special guests Amos Lee, Jenny Lewis, and comedian Nate Bargatze. Plus: banjoist extraordinaire (and the host's fellow Punch Brother) Noam Pikelny joins us for a few tunes, a brand new Song of the Week, and more music from Rich Dworsky and our band (singer Aoife O'Donovan, Chris Eldridge on guitar, Brittany Haas on fiddle, bassist Paul Kowert, and Ted Poor on drums). We'll also have comedy and drama from our Royal Academy of Radio Actors, Serena Brook, Tim Russell, and Fred Newman. Join us for a restorative two-hour break right here on the radio, Saturday at 5pm Central Time.
Download this week's Song of the Week, "Falsetto"
Download the chart for "Falsetto"
Chris Thile

By the time Chris Thile turned 15, he had already been playing mandolin for a decade. He'd also started Nickel Creek with Sara and Sean Watkins, and released his first solo recording, 1994's Leading Off. This Grammy winner and MacArthur Fellow teams up with numerous musicians in myriad styles and leads acoustic quintet Punch Brothers. His albums include Thanks for Listening (Nonesuch) 10 studio recordings originally written as Prairie Home Companion Songs of the Week. He is now in his second season hosting the show.

Richard Dworsky

Richard Dworsky, Live from Here's keyboardist, composer, arranger, and music director, has collaborated with diverse musicians -- from Yo-Yo Ma and James Taylor to Brad Paisley and Kristin Chenoweth. For 23 years, he served as pianist and music director for Garrison Keillor's A Prairie Home Companion. Rich has also provided music for documentaries on HBO and PBS, and has released many recordings of original material, including his latest, All In Due Time.

Chris Eldridge

Maybe it's the gene pool: Chris Eldridge's father was a founding member of the Seldom Scene, a group that guitarist Chris would join after earning a degree in music performance from Oberlin. He went on to start a bluegrass band, the Infamous Stringdusters, and later to critical acclaim with Punch Brothers. Mount Royal, his 2017 duo album with guitarist Julian Lage, is nominated for a Grammy Award (Best Contemporary Instrumental Album).

Brittany Haas

At 14, fiddler Brittany Haas began touring with Darol Anger's Republic of Strings. Now Anger says: "Britt opens the window, gets out of the way, and the music floods through in a tide of joy." The California-born Princeton University grad has performed with a number of bands, including Crooked Still and Hawktail (with bassist Paul Kowert, guitarist Jordan Tice, and mandolinist Dominick Leslie). Among her recordings is 2014's You Got This (Haas Kowert Tice).

Paul Kowert

At age three, Paul Kowert started on violin, but by fourth grade he'd taken up bass, and he later graduated from the Curtis Institute of Music. Now this Wisconsin-raised, Nashville-based musician is a member of Punch Brothers and has toured with Mike Marshall's Big Trio and Dave Rawlings Machine. His American roots quartet Hawktail includes mandolinist Dominick Leslie, fiddler Brittany Haas, and guitarist Jordan Tice. Their new album comes out soon.

Ted Poor

"Adventurous, truly dynamic, and forward-thinking drumming," said Modern Drummer magazine of Ted Poor. An in-demand session player and sideman, this Eastman School of Music alum has toured worldwide with various bands, and he is currently an Artist in Residence at the University of Washington, Seattle. For the past few years, Ted has been a member of Andrew Bird's band and appears on Bird's 2016 release, Are You Serious.

Tim Russell

Mild-mannered Tim Russell one minute -- Obama, Trump, or myriad others the next. It's almost impossible to stump this "man of a thousand voices." A longtime radio personality (veteran of WDBQ in Dubuque, WCCO and KJJO in the Twin Cities, in addition to his decades-long Prairie Home stint), Tim appeared in the Robert Altman film A Prairie Home Companion and the Coen brothers' A Serious Man.

Serena Brook

Actress Serena Brook has appeared off-Broadway, on the national tour circuit, and on regional theater stages. In the Twin Cities, her work includes productions at Chanhassen Dinner Theatres, 7th House Theater, the Guthrie Theater's Dowling Studio, and the Pantages Theatre in Minneapolis. The Eagan, Minnesota, native is also a voice-over artist who can be heard on national and regional radio commercials.

Fred Newman

Sound effects man Fred Newman is an actor, writer, musician, and sound designer for film and TV. Turns out, no one is more surprised than Fred that he's made a career out of doing what he used to do behind the teacher's back --crossing his eyes, making sounds, and doing voices. He readily admits that, growing up, he was unceremoniously removed from several classrooms, "once by my bottom lip."

Aoife O'Donovan

With her ethereal voice and substantive songwriting, Aoife O'Donovan captivates fans and critics alike. She was lead singer of the string band Crooked Still and a featured vocalist on The Goat Rodeo Sessions, the Grammy-winning album by Yo-Yo Ma, Stuart Duncan, Edgar Meyer, and Chris Thile. Her own recordings include Man In A Neon Coat: Live From Cambridge. Along with Sarah Jarosz and Sara Watkins, Aoife performs as I'm With Her, whose first full-length album, See You Around, is due out in February.

Amos Lee

Philadelphia native Amos Lee set out to be a schoolteacher. He earned a degree in English, but music proved to be the siren's call. With his smooth vocals and a style that has been described as jazz-meets-soul-meets-folk, he released his debut album, Amos Lee, in 2005 -- the same year Rolling Stone named him one of the 10 Artists to Watch. Six studio albums later, he continues to evolve, develop, and challenge himself as a musician. Spirit (Republic), his latest recording, is the first time he has taken the helm as his own producer.

Jenny Lewis

Jenny Lewis began acting in commercials, TV shows, and movies when she was a youngster. But her fans are more apt to know her as a standout singer and songwriter. Since her days as frontwoman for indie-rock band Rilo Kiley, she has done three solo albums, including 2014's The Voyager (Warner Bros. Records). Along with Erika Forster and Tennessee Thomas, she is also a member of the rock trio NAF, whose self-titled debut recording was released last year on Lewis's own Love's Way label.

Nate Bargatze

Nate Bargatze followed in the entertainment business footsteps of his dad, a clown turned world-class magician. The popular stand-up comedian -- one of Vulture's 2015 50 Comedians to Watch -- has appeared on The Tonight Show starring Jimmy Fallon, Conan, and at comedy clubs and festivals coast to coast. Nate's first album, Yelled At By A Clown, hit No. 1 on the iTunes comedy charts and stayed on Billboard's comedy chart for weeks. His 2015 special, Full Time Magic, premiered on Comedy Central.

Noam Pikelny

A founding member of Punch Brothers, banjoist Noam Pikelny is a three-time Grammy nominee and recipient of the first annual Steve Martin Prize for Excellence in Banjo and Bluegrass. The New York Times described his 2014 release, Noam Pikelny Plays Kenny Baker Plays Bill Monroe, as "a token of reverence, a feat of translation, and a show of dominion." His latest solo recording, Universal Favorite, will be out next month on the Rounder label.